An Apex of Digital Narratives & Interactive Design
Arc'teryx is one of the world's most recognized high-performance athletic brands and they're known for technical apparel designed to withstand time and the elements. So, when they came with the challenge of taking their digital storytelling to the next level, we rolled up our sleeves and got to work.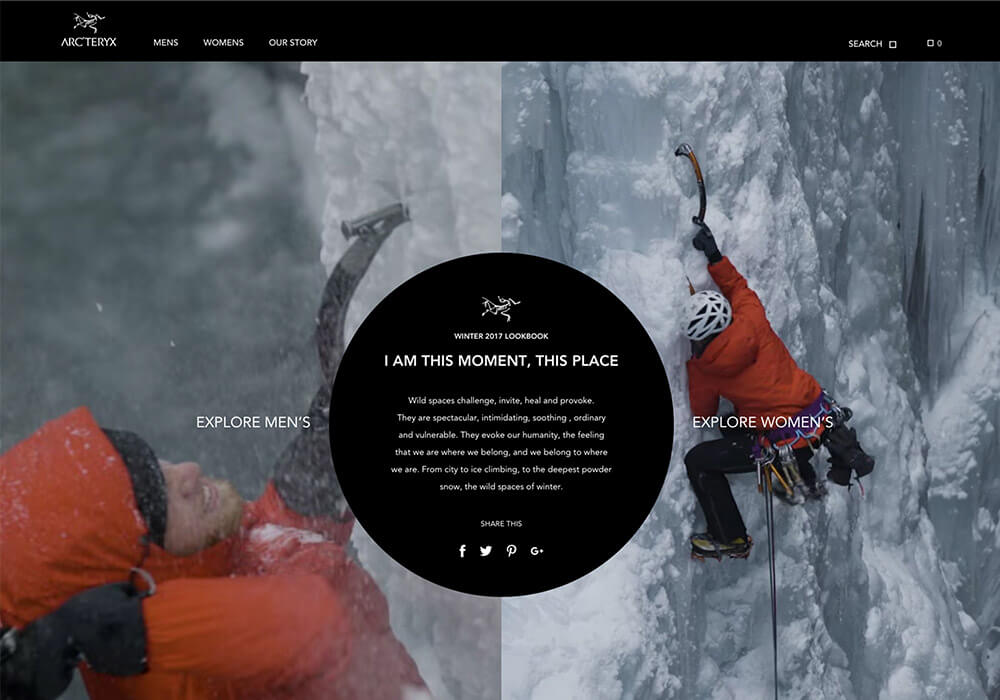 Behind the curtain of design and development
Our goal with all of our projects with Arc'teryx is to connect customers to the passion the brand has for the outdoors and the products they create for fellow enthusiasts. One project in particular was designed to showcase the unique manufacturing process for Arc'teryx products. Arc'teryx came to us with an idea for what they wanted to accomplish and really let us run with it. Based off a few videos they created we crafted an engaging 4-chapter online story about who they are. We first developed a strategy that encapsulated what the brand stood for, we then put theory to practice and designed and developed an entirely new storytelling experience.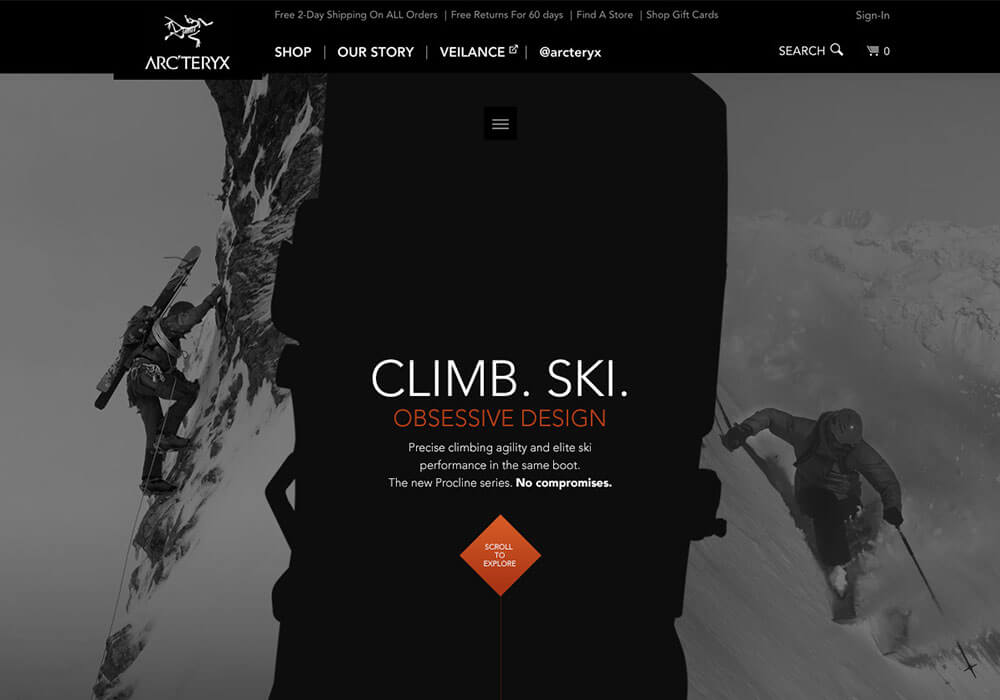 Pushing beyond technical boundaries
For the launch of Arc'teryx's 2018 product line, we built a Shell Finder application to help users discover the shell jackets best suited for their needs. The typical solution would be to develop a simple product page, but we challenged ourselves to create a fast-flowing user experience where people can use an application to help them with their purchasing decisions. By using React and a headless CMS, our UX solution simplified a complex set of product features and filters to ensure a fluid, visually engaging shopping interface, successfully increasing search conversion and driving the Shell Finder to become one of their most viewed pages.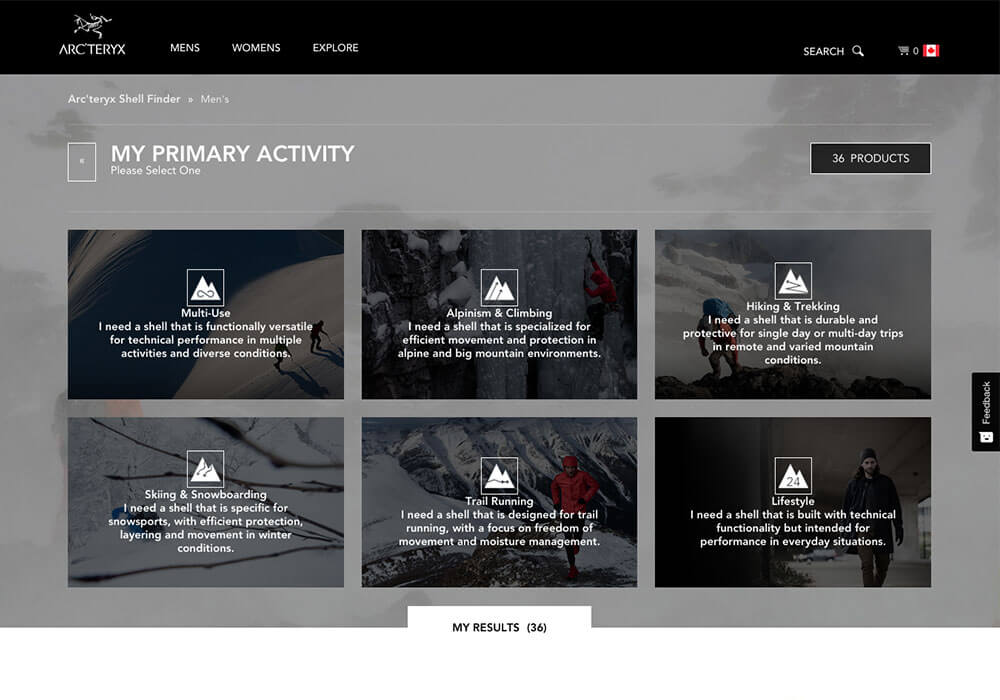 A collision of function & beauty
Apparel isn't always about function, sometimes you want to look good while performing at a high level. For a company like Arc'teryx, this means showcasing their products in a way that brings users into the story. For the Spring 2018 lookbook, we showcased the Arc'teryx design centre and celebrated function and beauty – the driving principle behind the brand's design, materials and construction. We created a digital experience to interact with content, watch videos and take a closer, real-life look at products while exploring the links between need, design and manufacturing. When it comes to lookbooks in general, we feel they need to be more than just a showcase of new clothing. Arc'teryx is a brand based in technical apparel and design so we like to add elements of storytelling to the experience.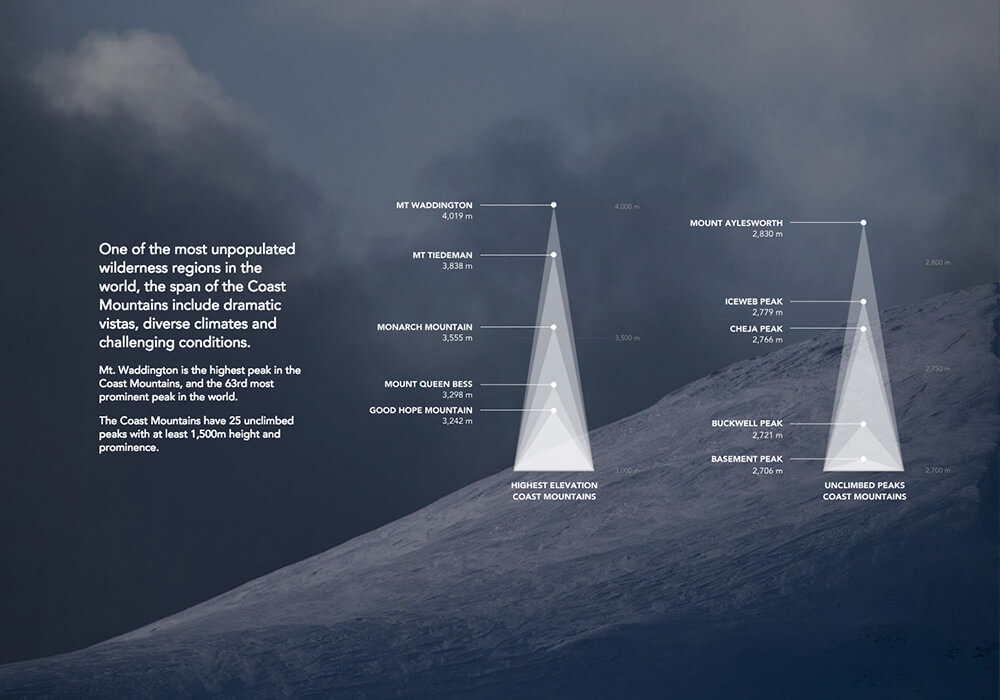 Stepping up discovery
Arc'teryx was known for their high-performance outerwear, so when they came to us with the news that they were venturing into athletic footwear, we dove into the soul of the user (no pun intended). We created a website experience that unfolds to unveil Arc'teryx's first-ever range of footwear. We dug into the heart of their design, passion and evolutionary thinking and created a website inspired by discovery.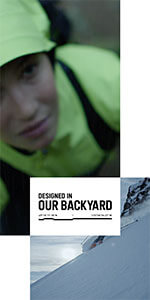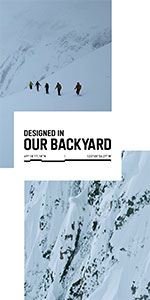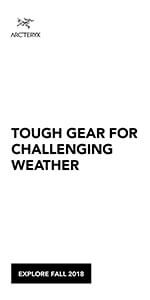 Unconventional storytelling
Digital banners are often looked at as necessary, but we see them as an opportunity to tell interesting microstories. In the case of Arc'teryx, we use digital banners like movie previews where we tease story elements and encourage users to experience more. These then become important parts of the overall story that ultimately drives users to want to learn more about the products.
The climb is only beginning
Digital storytelling is so much more than putting products out into the world, it's about weaving them into a narrative that users can experience. With Arc'teryx, we are constantly aiming to help articulate their purpose and really tell the story of the people that both design and manufacture the products. The story of Arc'teryx isn't just about looking good, or even the world class design, it's about the people – both behind the brand and those who represent it. As we continue to work with Arc'teryx, our intent is to consistently explore new ways of pushing the boundaries of digital storytelling.
Up Next:
Thinking Outside The Marketing Box
BigSteelBox is Canada's premiere shipping container storage and moving provider. They came to us with the challenge of moving their brand to become more digitally focused - both from a user experience and a digital marketing perspective. So, we rolled up our sleeves and got a move on.