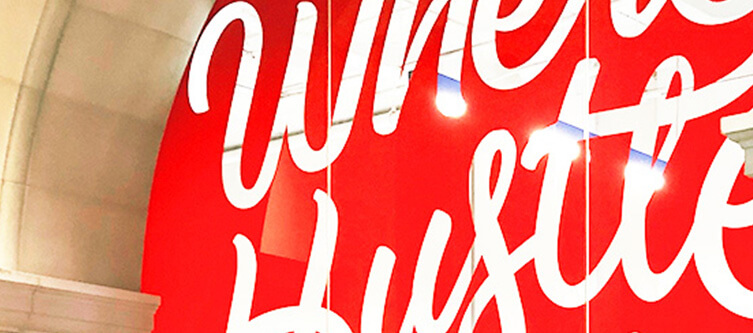 Why join us?
Great question, and to answer that, we propose the following brief:
What's the business problem?
The math isn't adding up and we've got too much work for the amount of people on the team.
Who's our target?
Only the hardest working, hustle infused, strategic thinking, tech-forward, production-focused, creative peeps who aren't afraid to do things differently.
What's our POV?
We're tired of the typical, so as we continue building our team we look for what makes people individuals.
What does success look like?
A dedicated team of innovative thinkers who want to blaze a trail into the future of digital.
Open Positions
Full Stack Developer (Vancouver)
What we're looking for:
We're looking for a problem solver that likes a little bit of everything to help support and grow the team. This is a senior position where you'll be working on a variety of projects and with a variety of teams. You must have the ability to put out fires, help team members squash bugs, and collaborate with our strategy, creative, account leads and clients to create, develop and deliver digital marketing projects on a variety of digital platforms.
About You:
You love code and people. Your philosophy is striving to make the lives of others on the team easier and simpler. You bring experience with web hosting and an understanding of hosting technology (AWS, GC, Digital Ocean, etc) and are excited about mentoring other developers, participating in peer and code reviews, and contributing to the agency's output.
Requirements:
3+ years of WordPress experience: development and development operations (deployment, troubleshooting, team support)

Full stack development skills:

Front end: Javascript, CSS3, HTML5, Bootstrap, Sass, Webpack, npm, gulp, Babel, React.js, Redux, TypeScript

Back end: PHP/MySQL, NGINX, Apache

Web Services: Rest

Source Control: Git, Github, Assembla

DevOps: Virtualization, Vagrant/Ansible, Docker

Miscellaneous: Selenium, Jira, Google Analytics, Google Tag Manager

Solid written and verbal communication skills in English

Analytical and creative problem-solving skills
You must be willing to adhere to our five rules:
Work Hard

Be Nice

Think Big

Love Digital

Have Fun
Benefits and Perks

Competitive salary
Opportunity for career growth
Great health coverage
The latest tools and equipment
Paid vacation & sick days
Paid closure over Christmas Holiday in addition to vacation
Continued career development through conferences, events, and continuing education
A casual work environment where you can be yourself and your team members have always got your back
Does this sound like we're talking to you?
If you think you've got what we're looking for please provide some coded examples showcasing your work and share your CV with us.
Apply now
Producer (Toronto & Vancouver)
Pound & Grain was born in 2010 with a simple idea that viewing the world digitally would create a better marketing agency. Our culture is still one where hard work, thinking big, loving digital, being nice and having fun is part of who we are. As we move into our 2nd decade as an agency, we are still obsessed with creating work that exploits the creative, technology and media of right now to connect brands with their customers. Today we do this for brands across North America. 
We work best when we have talented, motivated, and entrepreneurial day to day producers quarterbacking the entire project experience with our clients and our internal teams to create a seamless environment of delivering great work and better results. We are looking for a producer who has that perfect balance of calm hands-on management and the ability to see the forest through the trees. We aren't zealots about where we communicate with our target audiences along the user journey (from above to below the line), just that we treat each touch point as a place to build the right content to move the needle. 
We are looking for a seasoned and experienced leader with a solid agency track record for managing and shipping multiple digital projects at once, on budget and on time by magically managing resources, schedules, clients and external suppliers. You'll work directly with our account leads, strategic, creative, and tech teams to develop digital marketing solutions that meet marketing KPI's and business objectives while keeping a level head and a positive attitude.
Your Responsibilities:
Manage high volume and fast paced delivery of digital marketing, web development, video and general marketing projects. 

Own the day to day client relationships, daily communication, and manage projects and teams on an ongoing basis and ensure project requirements are met, understood, and then executed. 

Prepare project documentation: scoping, schedules, budgets, proposals, project plans, Statement of Work (SOWs), and status reports for satisfied clients and happy project teams, and ensure pixel perfect projects are delivered on time and on budget. 

Collaborate with project teams on strategic planning, budgets, estimates, flawless project delivery, risk management, resource management and strategic account growth and new opportunities within our client relationships. 

Deliver detailed process, analytical and financial updates in order to forecast and report on revenue, expenses, and project completion milestones. 

Contribute to the ongoing wellbeing and growth of Pound & Grain and Pound & Grainers by making daily strategic decisions designed to solve our client's problems. 
Required Skills and Experience: 
3+ years of delivering projects on budget and schedule, while continually winning praise from your clients. 

3+ years experience managing clients directly and ability to have strategic conversations directly with clients about an array of marketing solutions.

Track record for delivering all types of work: marketing campaigns, social media, broadcast, branding, paid media, and major web design and development projects.  

Proven ability to identify and mitigate risks, analyze options, and raise concerns to senior management appropriately. 

Proven ability to work under pressure, while maintaining a great sense of humor.

Knowledge of standard project management tools (Jira, Basecamp, Mavenlink) and methods. 
The P&G Difference: 
We celebrate diversity and inclusion

Casual offices, dress code, and flexible environments 

Competitive compensation and physical and mental health benefits

Annual training and conference opportunities 
Does this sound like you?
If you're our next talented producer please share your details and interest with us.
Apply now