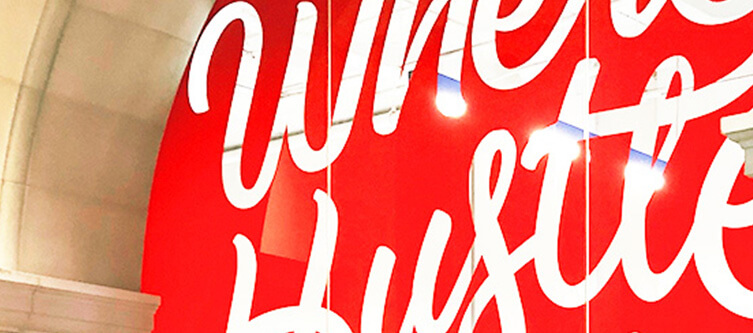 Why join us?
Great question, and to answer that, we propose the following brief:
What's the business problem?
The math isn't adding up and we've got too much work for the amount of people on the team.
Who's our target?
Only the hardest working, hustle infused, strategic thinking, tech-forward, production-focused, creative peeps who aren't afraid to do things differently.
What's our POV?
We're tired of the typical, so as we continue building our team we look for what makes people individuals.
What does success look like?
A dedicated team of innovative thinkers who want to blaze a trail into the future of digital.
Open Positions
Senior Designer
About Us
We're Pound & Grain, a digital creative agency located in Vancouver & Toronto. We hustle to build hardworking, results-driven creative solutions for our clients. And we infuse everything we do with heart because Pound & Grain is where hustle meets heart.
What We're Looking For
We're searching for the next creative, talented, and motivated designer to join our growing team. This is a senior designer position where you'll work on a variety of projects with multiple outputs, challenging you to be versatile, nimble, and up to date on the current design, cultural and technological trends. You must have the ability to ideate on user experiences, websites, social media, and marketing campaigns, as well as a killer portfolio showcasing work that you have completed in the past.
About You
You are a passionate and enthusiastic senior designer looking to take the next step in your career. An entrepreneurial self-starter, who is looking to push their skills to the limit to create beautiful, thoughtful, and personality-infused work for a host of exciting brands including BCLC, ViacomCBS, Arc'teryx, Save-On-Foods, and many more.
You are platform agnostic and can create eye-grabbing experiences across any medium the brief calls for. You are experienced with marketing, branding, website design, and content creation and have a desire to find a balance between creativity and innovation in the future of marketing.
You are curious and looking to expand your creative horizons. You want to be a part of a team that is highly collaborative and equally passionate about the work they are doing. You work with intent and are always able to concisely articulate the "why" behind your work.
Requirements
4+ years professional experience

designing for web, print and digital.

Strong UX/UI skills.

Previous Agency experience is an advantage.

Incredible attention to detail.

Up-to-date on current trends & best practices.

Passionate about creating amazing work.

Ability to communicate and defend creative decisions.

Strong communication and presentation skills.

Ability to take a strategy-lead approach to execute visual concepts.

Working knowledge and experience with motion design, and ability to translate design concepts into storyboards.

Expertise in Adobe Photoshop, Illustrator and Indesign. Experience with Sketch and/or Figma, Invision, and other User Experience design tools.

Illustration skills and/or experience in traditional media production would be an added bonus.
Does this sound like we're talking to you?
If you think you've got what we're looking for please provide your online portfolio showcasing your work and share your CV with us.
Apply now
Web Developer
What we're looking for:
We're looking for a problem solver that likes a little bit of everything to help support and grow the team. This is a senior position where you'll be working on a variety of projects and with a variety of teams. You must have the ability to put out fires, help team members squash bugs, and collaborate with our strategy, creative, account leads and clients to create, develop and deliver digital marketing projects on a variety of digital platforms.
About You:
You love code and people. Your philosophy is striving to make the lives of others on the team easier and simpler. You bring experience with web hosting and an understanding of hosting technology (AWS, GC, Digital Ocean, etc) and are excited about mentoring other developers, participating in peer and code reviews, and contributing to the agency's output.
Requirements:
3+ years of WordPress experience: development and development operations (deployment, troubleshooting, team support)

Front end: Javascript, CSS3, HTML5, Bootstrap, Sass, Webpack, npm, gulp, Babel, React.js, Redux, TypeScript

Back end: PHP/MySQL, NGINX, Apache

Web Services: Rest

Source Control: Git, Github, Assembla

Solid written and verbal communication skills in English

Analytical and creative problem-solving skills
Your bonus skills might include:
DevOps: Virtualization, Vagrant/Ansible, Docker

Miscellaneous: Selenium, Jira, Google Analytics, Google Tag Manager
You must be willing to adhere to our five rules:
Work Hard

Be Nice

Think Big

Love Digital

Have Fun
Benefits and Perks

Competitive salary
Opportunity for career growth
Great health coverage
The latest tools and equipment
Paid vacation & sick days
Paid closure over Christmas Holiday in addition to vacation
Continued career development through conferences, events, and continuing education
A casual work environment where you can be yourself and your team members have always got your back
Does this sound like we're talking to you?
If you think you've got what we're looking for please provide some coded examples showcasing your work and share your CV with us.
Apply now