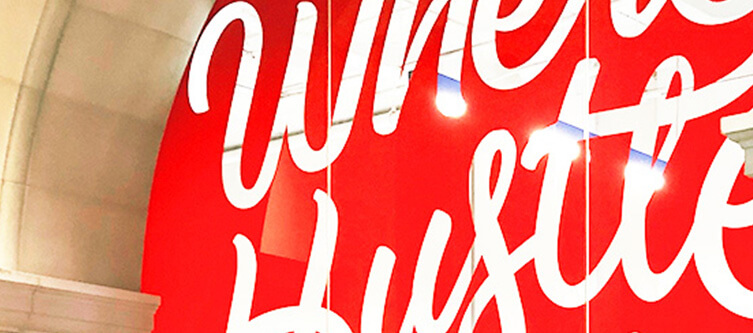 Why join us?
Great question, and to answer that, we propose the following brief:
What's the business problem?
The math isn't adding up and we've got too much work for the amount of people on the team.
Who's our target?
Only the hardest working, hustle infused, strategic thinking, tech-forward, production-focused, creative peeps who aren't afraid to do things differently.
What's our POV?
We're tired of the typical, so as we continue building our team we look for what makes people individuals.
What does success look like?
A dedicated team of innovative thinkers who want to blaze a trail into the future of digital.
Open Positions
Senior Accountant
We're Pound & Grain, a digital creative agency located in Vancouver & Toronto. We hustle to build hardworking, results-driven creative solutions for our clients. And we infuse everything we do with heart because Pound & Grain is "where hustle meets heart".
We're looking for that highly motivated and capable Accountant/Senior Accountant to make an immediate impact and influence the direction of Pound & Grain by providing stakeholders with key financial information for a growing business.     
We want someone who is passionate about financials and details and is happy to roll up their sleeves and take care of the day-to-day accounting while being driven to support management with real time analysis and quality decision support. The Senior Accountant will be replacing a bookkeeper as a service as agency growth and greater demand require a broader skill set, deeper knowledge, and real time support. 
Responsibilities
Full-cycle accounting:
Take ownership of the day-to-day accounting functions that include, but are not limited to:

Working with the production team to execute client billing process and tracking accounts receivable

Assisting with bank balance monitoring and cash flow projections by tracking accounts payables and bank balances of multiple currencies 

Administering and processing monthly payroll and health benefit plan

Liaising with external tax advisors with respect to corporate year-end filings and preparation of supporting working papers

Assisting with the implementation of cross platform integration and other process improvements
Management reporting:
Work with the Head of Production to maintain costing spreadsheets to report margin and profitability by client and by service line

Maintain and enhance monthly reporting of pipeline, forecasted and actual revenues

Maintain monthly and annual cash flow projections, conducting budget vs actual variance analysis, and other analyses to support management

Assist with the design, development and troubleshooting of excel models that provide financial reporting, sales data, and other ad hoc reporting
Required Skills and Qualifications
5 years of progressive experience in accounting roles, with preference to those who've worked in marketing or digital media space

Completion of post-secondary education in Accounting, Finance, Business Administration, or related field required.

Completion of Canadian CPA designation preferred, or active enrollment required.

Experience with Excel modelling and analysis.

Excellent communication skills, both written and verbal, and interpersonal skills.

Extreme attention to detail.

Experience preparing financial statements and supporting working papers under ASPE for management and other stakeholders an asset.

Strong analytical and problem solving skills to evaluate alternatives and provide analysis on business issues.

Ability to work in an open team environment while safeguarding confidential information.
Proficiency and comfort with web based technologies, Google G Suite and Quickbooks Online.

Experience in a fast-paced, energetic agency environment.

Ability to multitask effectively as required

Entrepreneurial spirit: self-starter and proactive.

Flexible and adaptable to rapidly changing business conditions and priorities.
The P&G Difference
We are a creative agency with heart striving to deliver the best digital-led work to our clients without all those tiresome big agency hassles. 

Pound & Grain strongly believes that differences make us all stronger. They make our work and ideas better. The more diverse and strong we are as a team, the better we can be.

To that end we're committed to diversity and inclusion in our team, in our work, and in regular training for all of us to hold us accountable. 

Still in a sweats kind of mindset? No worries. We are very pro-flexible and remote working vibes and have casual office experiences in Vancouver and Toronto when you need one.

Competitive compensation and physical and mental health benefits, plus annual training and conference opportunities. 
Salary Range
Commensurate with experience
Sound like you?
If you're the awesome Senior Accountant we need please share your details and interest with us.
Apply now