When Pound & Grain's creative directors Graham MacInnes and Jackson Murphy attended CS Mumbai in 2016, they loved the inspiration, collaboration and insights they gained by hanging out with a bunch of creative leaders and innovators for a few days.
With a recharged drive for creativity and new motivation to connect with thought leaders and world class thinkers, they thought, "Wouldn't it be cool if Creative Social came to Toronto?"
The city of Toronto has tons to offer, especially in creative industries. As one of the most multicultural cities on the planet now home to more than 600 start-ups with a drive for creativity and innovation, Graham and Jackson figured Creative Social would be a great opportunity to "show off Toronto's diversity and energy" and "challenge some of the perceptions international creatives may have had about the city and Canada in general."
What is Creative Social?
Creative Social began in 2004 when Daniele Fiandaca and Mark Chalmers wanted to drive the emerging digital advertising industry forward. In an increasingly digital world, Creative Social expanded to incorporate more creative industries including design, film, music and production companies. Each event takes place in a different city and over the years, Creative Social has occurred in Amsterdam, Barcelona, Berlin, London, New York, Paris, San Francisco, Sao Paolo, Shanghai, Montreal and more.
Their website states, "Creative Social is a club for creative and brand leaders who believe creativity and innovation will deliver better business and culture. Our purpose is to accelerate creative thinking for agencies and brands."
Pound & Grain was fortunate enough to welcome and host Creative Social and over 30 creatives from London, New York, Seattle, Amsterdam, and a bunch of locals from Toronto in Toronto for 1.5 days of inspiration, interesting conversations and new connections. A lot went down May 11th & 12th. Here's what happened.
Creative Social is a club for creative and brand leaders who believe creativity and innovation will deliver better business and culture.
Day 1
CS Toronto took off on a high note at Shopify (@Shopify) in downtown Toronto with food, drinks, meets and greets. Shopify is a Canadian made e-commerce platform strongly involved in the Toronto community and has over 400,000 stores using their platform. Their office was a unique place to visit with its fun interior, open spaces and wood paneled everything. Once people filed in, the atmosphere became even more charged with excitement.
The night kicked off with "That's Me, That Is", a chance for each member to introduce themselves to the group through a piece of recent work.
We then heard from Shopify's social media host and content producer Spencer Butt (@spncrbtt). He spoke about what it's like working in social media, the differences in content and engagement across various platforms, and the power of Snapchat. He discussed the distinction between talking with your audience vs. talking at them, the success of using buzzwords and asking questions, and the importance of being consistent, honest and relatable. He then blew everyone away with some powerful spoken word poetry.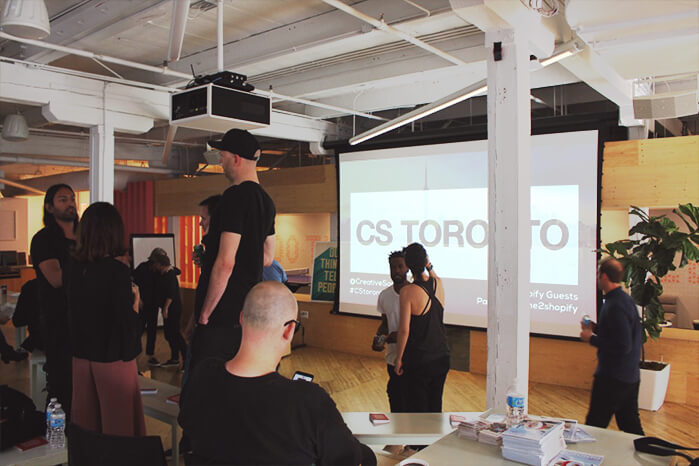 A room full of innovators & creative leaders
Day one concluded with an amazing meal at Loka (@LokaToronto), a restaurant focused on exploring Canadian cuisine. Chef Dave Mottershall (@Chef_Rouge) spoke to us about the restaurant's ethos regarding using local, in-season ingredients and maintaining a zero-waste policy. It was both a delicious and insightful experience.
Day 2
The second day began bright and early at the Telus Tower with Telus (@TELUS), a Canadian national telecommunications company. Kicking the day off at the hub of one of Toronto's largest digital innovation leaders, and one of Canada's largest companies, was the perfect warm up for a great day. Shawn Mandel, the Vice President of Telus Digital spoke about the significant roles consistency across platforms and synchronized design play for brands.
Bunz (@bunzofficial) CEO, Sascha Mojtahedi, and Chief Product Officer, Rishabh Varshney, shared how they've grown a small Facebook group into a global community for trading goods and services. They discussed how trading and earning can in fact exist together, allowing people to do what they love while also making a living. It's all about the side hustle.
The Drake's Cultural Programmer, Ashley Mulvihill, and Music Programmer, Iain Macneil (@iainmacneil), were next to take the stage. The Drake (@thedrakehotel) is a landmark for art and music culture in Toronto. It features a hotel, nightclub, arts and live performance venues, restaurant lounge, café, patios and Drake General Store. They shared how The Drake's brand focuses on starting a conversation about art, creating a hub for discovery and helping emerging artists and musicians grow.
The group made its way to Teknion's Collaboration Hub where, on the 20th floor, we were greeted with a beautiful view of the city and waterfront. Teknion (@teknion) is a designer and producer of premium furniture and architectural products, so a showroom tour of Teknion's latest workplace design concepts was a treat for everyone. Claudio Ferreira, Senior Manager of Digital Corporate Marketing at Teknion, shared some insights about the company and the exciting projects they are working on.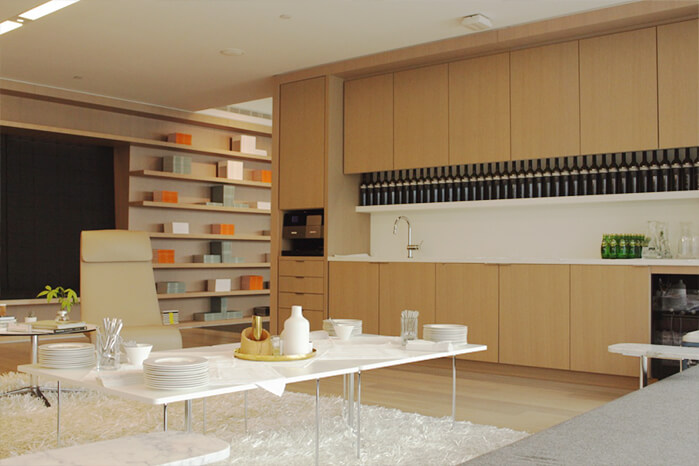 Teknion's Collaboration Hub
Presentations continued with Alan Gertner (@timeonproject), the CEO and CO-Founder of Tokyo Smoke (@tokyo_smoke), a venture created to bring design, education and emotion to cannabis. Alan discussed the cultural shift towards the normalization of cannabis and the importance of building a brand with an elevated retail experience and customer curated smoking goods.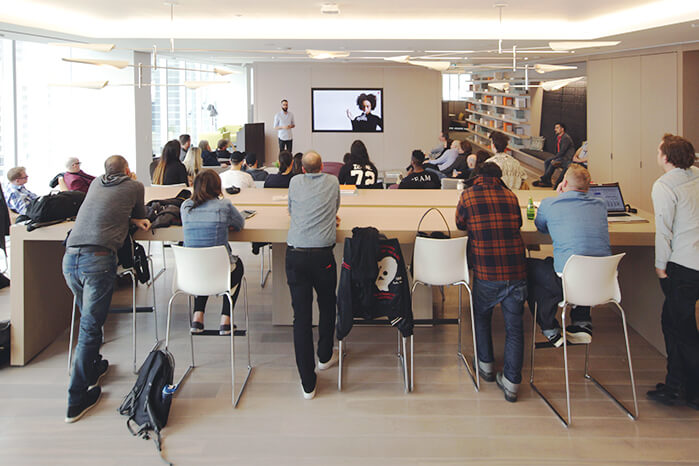 Exciting stuff happening at Tokyo Smoke
Time to break and stretch our legs. We took to the streets for the interactive workshop Street Wisdom led by Creative Social's Daniele Fiandaca (@yellif) and James Kirk (@otherjameskirk). The group was encouraged to slow down, think creatively, discover the beauty surrounding us and follow organic stories in order to answer big, personal questions. It was a great way to break from the hustle and chaos of everyday life and hit the reset button.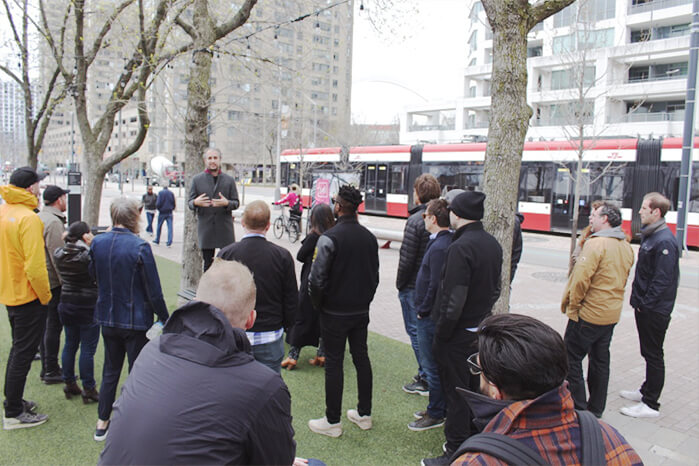 CS Toronto takes to the streets
Back to Teknion to hear from Matt Johnston, founder of Collective Arts Brewery (@CollectiveBrew), a grassroots beer company combining the craft of brewing with the talent of emerging artists & musicians. We enjoyed some of their brews, each can featuring beautiful works of art, while Matt discussed what drives an emotional connection with consumers. He also shared how Collective Arts' focus, and his personal passion, is about fusing creativity, craft brewers, and emerging artists, designers and musicians.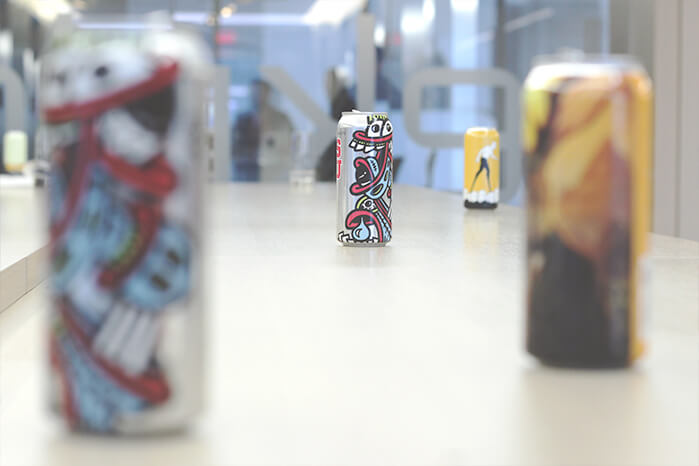 Beautifully artistic, deliciously refreshing
Festivities then moved to TIFF Bell Lightbox (@TIFF_NET) to hear from Magali Simard (@Magali_TIFF), Senior Manager of Theatrical Programming and Canada Programmer, and Jody Sugrue (@jsugrue), Creative Content Director. Beginning as a film festival, TIFF and has grown into a premier cultural institution that offers screenings, lectures, discussions, and workshops and is dedicated to presenting the best of international and Canadian cinema.
We munched on popcorn in comfy theatre seats while Magali and Jody explained TIFF's mission to continually innovate the annual festival, year-round films, talks and exhibitions. We were treated to viewing The Film Prayer on the big screen, a video made for TIFF's Save This Moment initiative to preserve film. The visit ended with a private tour of the incredible projection booth.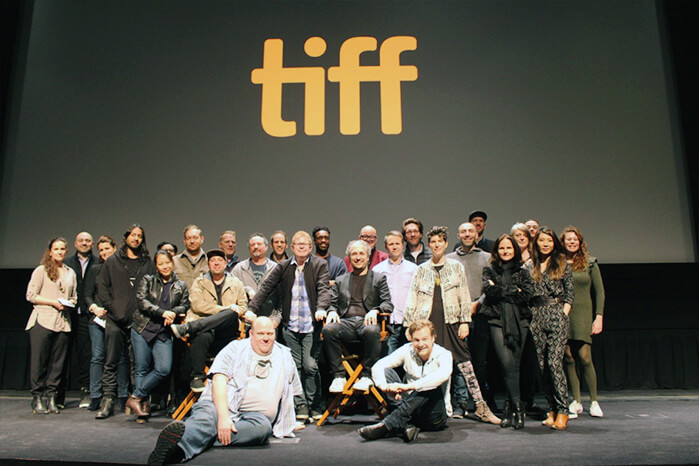 CS Toronto 2017, that's a wrap!
With lots to think about and plenty of inspiration to take home, it was time to reflect on all the creativity shared and say our goodbyes. CS Toronto finished off with drinks at The Drake Hotel's rooftop patio, Sky Yard, and an entertaining Toronto Blue Jays MLB baseball game at the Rogers Centre.
Managing partner Sandy Fleischer, who joined from our Vancouver office, shared his thoughts on the experience. "Creative Social Toronto was unforgettable. Highlights for me included a 5 course meal at Loka, culminating in a talk with chef Dave Mottershall about Loka's zero-waste kitchen. Also, the projection room at TIFF was very cool. It was amazing to see the 10 reels that make up '2001: A Space Odyssey' 70mm print."
Creative Social Toronto was unforgettable.
It was an honour bringing Creative Social to Toronto for all of us at Pound & Grain. We couldn't have made this possible without the wonderful attendees and thoughtful speakers. Thank you to our incredible sponsors and the team's at Shopify, Telus and Teknion as well as our co-pilot in organizing from Geneva Films, James Stewart (@jamesstewart3D) – or as we liked to called him, James2.
"We also had tireless help from our team," shared Jackson. "We couldn't have done this without help from Sandy Fleischer, Amanda Benedetti, and Ivana Atlija. And to Daniele Fiandaca and James Kirk from Creative Social, who thought coming to Toronto was a great idea, thank you for your endless leadership and support. We think of you as honorary Canadians now – I'm able to do that, right?"
See you in England for CS London in November!