Happy Birthday to us!
We're all grown up! It's been 9 years since Pound & Grain was born. 2010 was the year of our inception, and it sure was a simpler time. Katy Perry's California Gurls topped the charts, Obama was in office (shots fired) and Instagram hadn't even launched yet. Oh, how things have changed. One thing that has remained the same, though, are the principles that Pound & Grain was built on. After 9 years, our five rules remain:
1. Work hard   2. Be nice   3. Think big   4. Love digital   5. Have fun
Having this at the core of who we are has proved successful over our almost decade-long adventure as a digital agency. It's what has fostered an environment of being original, independent, and fearless individuals creating big ideas and helping our clients succeed. Speaking of which, in 9 years, we've created a lot of cool stuff. Each year, we took on projects that challenged us, allowed us to try new things, and ultimately helped us grow. To celebrate our anniversary this year, we're taking you for a walk down memory lane to give you the full 9 yards on some of our most proud accomplishments. Join us as we reminisce on the projects that have brought us to where we are today.
2010 – Theo Thermometer
The hero we didn't know we needed.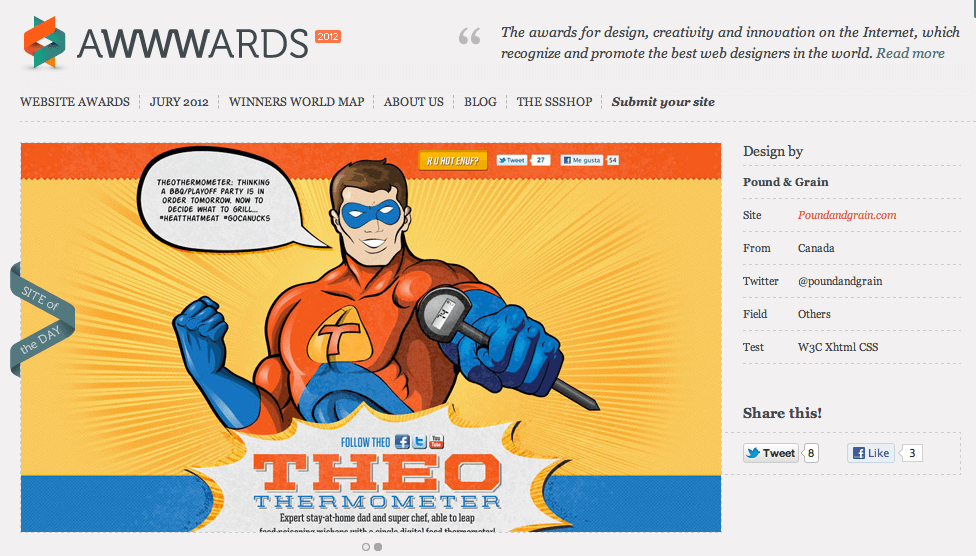 Jackson:
This was a really cool/quick opportunity from Vancouver Coastal Health. They were creating awareness around the importance of using meat thermometers and were giving away a bunch of free ones through social media as a part of the campaign with this site.
Knowing we had a limited budget we wanted to create an extremely simple and engaging site that put a smile on people's faces and ensured that they took in all the important information on the site. The key was creating the "Theo Thermometer" character and creating an extremely long thermometer that drew people down the screen and went through a series of various temperatures educating viewers at each stage.
It was special because of its simplicity and really got in before the whole "long scroll" trend. It also won an Awwward for "Website of the Day" which was a cool surprise. At the end of the day, we took a small opportunity and turned it into a calling card for what we could do. For years following that we continued to get emails saying that clients wanted to work with us because of that site.
Tara:
Fun fact: the team was super pumped that they had to do multiple searches/purchases of "meat vectors" for this project. *eye roll*
2011 – Sex Etc.
Making an impact one site at a time.
Tara:
Answer is a national organization based out of Rutgers University in New Jersey that provides and promotes unfettered access to comprehensive sexuality education for young people and the adults who teach them. They were looking for an agency to create the next generation of their popular teen sex education website, Sex, Etc. (sexetc.org). We created a responsive CMS-driven site that was up to date and accessible from anywhere on any device. At launch, the site had over 30,000 pieces of content with an infrastructure that was easy to use and would allow the site to evolve while enabling a team of contributors from across the US.
This one was special for a number of reasons:
The US-based Answer team came to us after seeing our work for YYoga on the Awwwards site.
This was Pound & Grain's first US client.
We continue to work with Answer 7 years after the launch of our first project with them.
The site has won several awards and is now consistently in the Top 5 in Google search results for sex education.
2012 – Microsoft
Creating a seamlessly consistent, integrated experience.
Graham:
Microsoft brought us on to help unify and reimagine their XBOX Live UFC live picking experience and UI. While the live app had high engagement, a key proponent of usage was ensuring fans could access the experience through their mobile phones and social platforms (iOS/Android/Windows Phone, Facebook/Smartglass). We were brought in to create a consistent experience across all platforms that tightly integrated with the main Xbox Live infrastructure.
We started with the UFC XBox Live app and worked closely with their team to understand the mechanics and what features needed to be included to ensure authenticity was kept across all platforms. We also needed to have deep knowledge of each of our platforms and how the experience can feel like a native experience for each. From there we created a unique experience for each platform that adhered to strict UFC guidelines and devised a process for ensuring that with each event (which was run live) we could quickly update and deploy all new assets to reflect the unique identity of each UFC PPV Event.
This project was special because of the scale and amount of fans that engaged with it. It's one thing to design an experience but another to create one that tens of thousands of players engage with live while making split decisions that impact their standing on a leaderboard. We also worked cross functionally with the Xbox live team and development team to make sure we could achieve our goals and adhere to standards. As fans of the UFC and Microsoft its was a great opportunity to get stuck into these businesses and understand their vision for the fan experience.
2013 – Whil
Launching a mindfulness brand.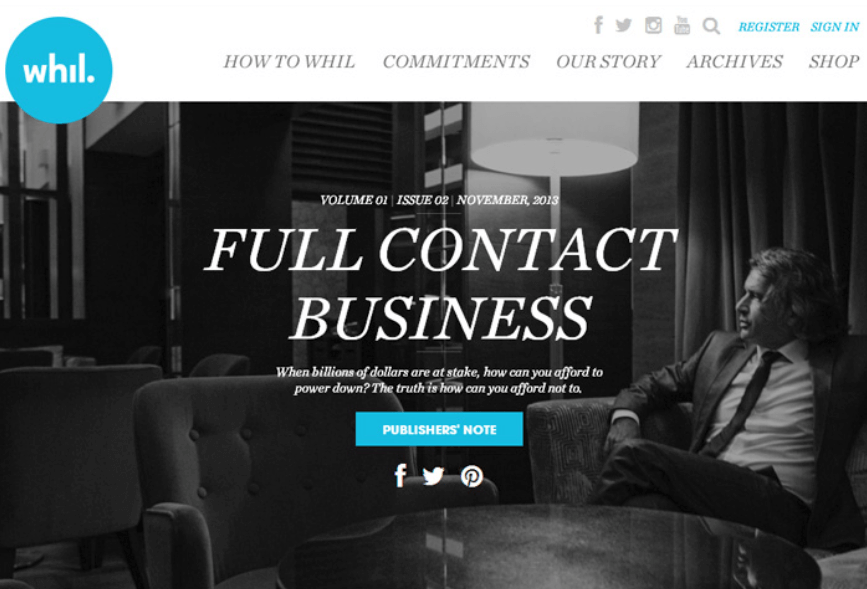 Sandy:
Whil was an affordable lifestyle brand that promised nothing. We were tasked with launching the brand in key US markets and educating the target audience about the benefits of meditation. We refined the brand, and created a very cool launch campaign that included a viral hoax video and a party at SXSW.

This work was special for a few key reasons. It was probably our first campaign-based opportunity in the US. So we were dealing with reaching way more people and bigger budgets. We also had tons of creative freedom. What I look back most fondly on was the fact that our launch party was one of the most talked about events at SXSW that year. That's no easy feat.

2014 – SAP
The start of a long-term relationship.
Sandy:

We did lots of work for SAP in 2014, across several products and SAP offices. Of note, we worked with them to take a deeper dive on their target audiences for their analytics suite of products, better understanding their purchasing pain points and motivations. We were also able to work with them to find campaign solutions that were B2B in nature but had the creative excitement of a B2C campaign.
This was the year that SAP really matured as a client for P&G, and they saw us as a true strategic partner. One thing that we made was a VR experience showcasing one of their products. It was special in that we were able to launch our VR experience at SXSW and it was considered a huge success within SAP. It opened many doors for us, and became a bit of SAP marketing history.
2015 – We Heart Local
Supporting the locals never tasted better.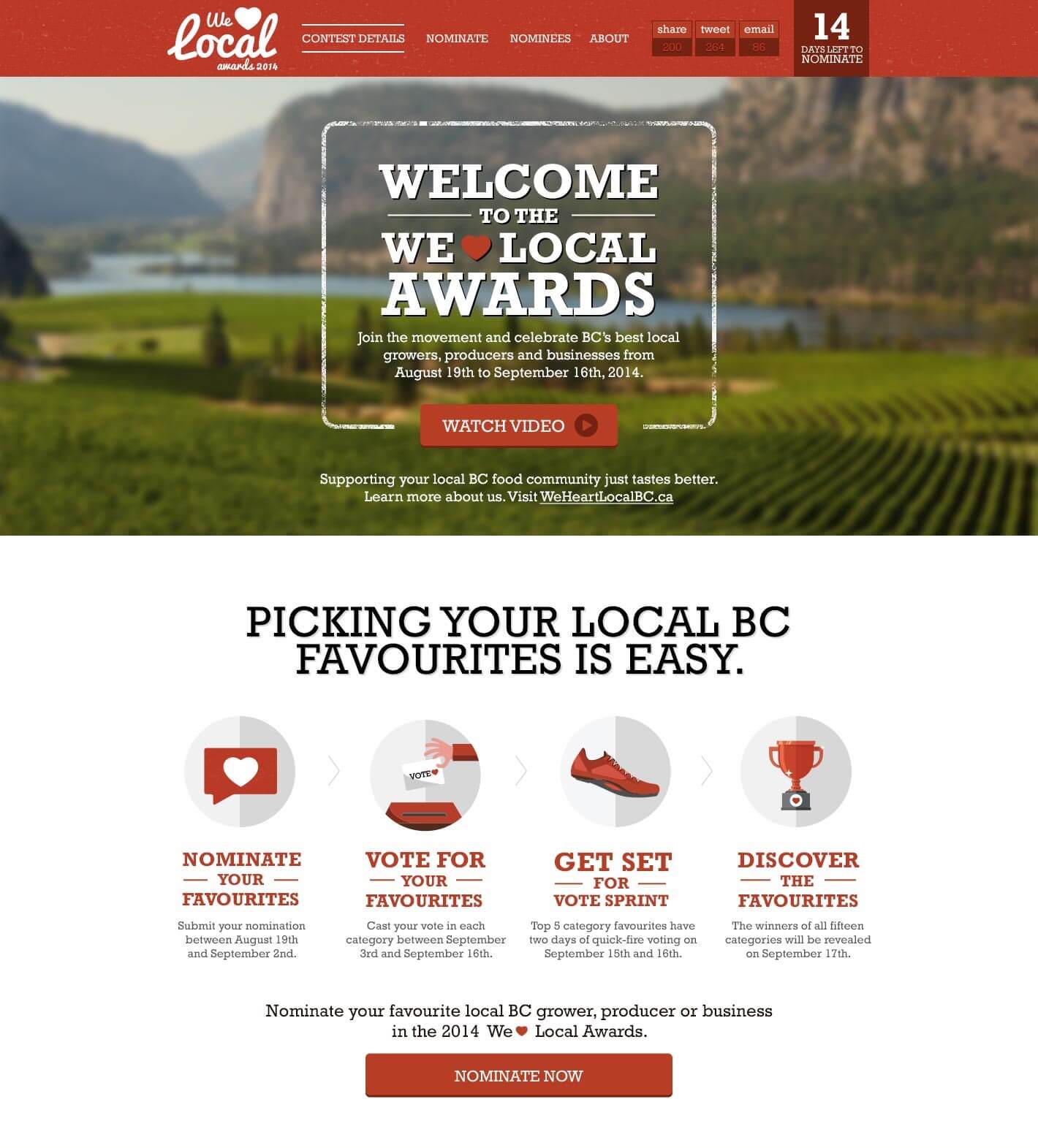 Jackson:

We Heart Local was a brand we created for the BC Dairy Foundation and the BC Agriculture Council to help make a stronger connection between farmers and consumers.
The best part of the project was that it started with an open ended marketing problem. What we ended up doing was to create that consumer-friendly We Heart Local brand – something that brought people together. More of a movement, and less of a campaign. What was great was that it brought together some amazing farmer video stories, recipes, and engagement in the form of a social contest that helped British Columbians bring together the best in local foods. We ended up making a website, an app, and a wildly successful voting based contest.
Looking back now this was the project that really got our agency thinking video-first in a lot of campaigns. It was the first time we worked with our now-long time collaborators from Noravera, and our road trips, adventures, and experiments with GoPros as we explored the food, farms, and people of BC were one of a kind. That work was invaluable in getting more work in the food sector and we even made an incredible miniature farm.
2016 – CFL Pick 'Em
A digital dream come true.
Sean:
In 2016, Fantasy Football options that featured the Canadian Football League were either non-existent or so limited in features, they simply weren't worth playing. The CFL approached P&G after our work on their CFL Pick 'Em game to conceive, design and develop a mobile-friendly Fantasy Football game that offered a competitive feature set and fun yet easy-to-understand gameplay for hardcore fans and newcomers alike.

P&G conducted primary research with CFL fans and Fantasy players to identify the sweet spot for the CFL Fantasy game. From there, we created a game that offered all the cool features of modern daily fantasy games but were uniquely tailored to match the things that makes Canadian Football so distinctly different and compelling from its American counterparts. It was the first of its kind – the only true Fantasy game based on the CFL that wasn't just a ripped/re-skinned version of another game. Following launch, the game was licensed by TSN who brought it to it's Canada-wide audiences!

2017 – Weight Watchers
Deliciously impactful.
Scott:
Weight Watchers was one of those super-fast gigs that ultimately turned into something much bigger. We were contacted in August about pitching for a fall campaign, which obviously didn't leave a lot of time. But we pitched it anyways, and Weight Watchers liked the ideas so much that we went straight into production. Quite a whirlwind, but it was fun, exciting and definitely allowed us to get up to speed on the brand in a short period of time.

That first campaign was all about taking an existing campaign that Weight Watchers had running on TV and in print, and creating original digital pieces. We basically took the overall idea of Beyond The Scale and showed a digital and social audience what that means for them. That first campaign included some pre-roll videos, banners and social content – but that was only the beginning of what we ended up doing with Weight Watchers. Eventually we worked with them to shoot and produce member videos, recipes and social ads.
What was really special about working with Weight Watchers was defining their digital content library and how they could use social channels to create brand champions. We had the opportunity to work a lot with real members, so to hear their stories and use them to help define the brand's digital voice was really fun.
Dana:

Our first project for Weight Watchers was for their fall 2017 campaign. We pitched some campaign ideas that really resonated with the WW team and they felt they were very strategically aligned to their target audience. The pitch was in August and I believe we had about 6 weeks to put the full fall campaign together including video production.
We created a full digital campaign for WW including online pre-roll, social posts, and DSP banners in both English and French. We learned a lot about the brand and the client in a very short amount of time, but we were able to create some really great work together.
This project was special for me because it was the first time I got to work really closely, and on the ground, with the Toronto team. I worked out of the Toronto office while we were going through pre-production and video production for the campaign and the team really came together to hustle and make great work. We also developed a really great relationship with our lead client – Matt – that really felt like a partnership because we worked well together and were all aligned on the same goals.
2018 – Viacom
Creating original content for social.
Scott:
When we started working with Viacom we were brought on specifically for special social projects. We pitched some cool content ideas and how we could evolve their visual language through things like video and animation. Then, about 2 months into working with them, they asked us to take over all of their social media management including their social strategy, brand and any future content opportunities. It was a massive opportunity for us to show our value to a big brand and we were excited to roll up our sleeves and flex our creativity and strategic thinking.

I think some of the coolest things we've made with Viacom are definitely our Going Up series, our Soundbites series and some of the live event coverage. The great thing about working with a parent brand like Viacom is having access to brands like MTV, BET and VH1 to name just a few. Also, not gonna lie, it's super fun to be out with friends and have them ask what it's like to work on projects that involve South Park, SpongeBob and RuPaul's Drag Race.
Ivana:
In 2018, we landed Viacom as a client, the giant media company that owns channels I grew up with like Nickelodeon and MTV and brands whose content I still watch today like Comedy Central and Paramount Pictures, among others. It was a big win, and we were pumped. Our task? Refresh their social media channels to prove that Viacom is a leader in the entertainment space. It was a big ask, and we were up for the challenge.
While we had worked on social for many clients, none of the accounts were to this kind of scale. I was switching gears from creating 10-15 posts (maybe) a month to supporting 10-15 posts a week! As somebody who loves strategy, getting to take part in updating the social media strategy, design guidelines, and brand voice was an exciting opportunity. Putting it into action was even more fun. Not only were we curating pre existing content, but we started to create original content like Going Up. Then there were the tentpole events. Covering live events on social in real time was brand new to me, but when you're given the opportunity to cover the iconic MTV Video Music Awards, you rise to the occasion.
Social is constantly changing, so we're lucky to work with a collaborative client that loves trying new things and is open to innovating content for their social channels. As a junior, working on Viacom teaches me new things every day, keeps me in the loop on all things entertainment and pop culture, and has provided me with exciting opportunities like creating original content series from the ground up and travelling to New York City for work. Look at me now, Ma!
2019 – Top Creative Agency
We've got a bonus milestone for you! This year, we have been recognized by DesignRush as a one of the Top 20 Digital Marketing Agencies That Won't Break The Bank. What an incredible nine years it's been!
See you next year when we celebrate Pound & Grain turning double digits!