'Tis the season for saying thank you to the people who make our jobs the best one ever!
To celebrate the end of a successful year with our clients and ring in the new one, we wanted to gift an enjoyable drink to be merry with. So, we created a custom, limited edition, 404 Gin, made from the hearts of Pound & Grain. Just like all our favourite 404 pages, it's exactly what you're not expecting. Check out the landing page here, and continue reading to see how it all came together.
The Pitch
Working on the client holiday gift is a special treat each year. It's a fun, creative project that's heartfelt and all about saying thank you to the people we work with each and every day. Last year, we held a concept competition, bringing the teams from Toronto and Vancouver together to brainstorm ideas. This year, Pound & Grain took a different approach. Two juniors. Two cities. One creative duo excited to make a splash.
Ethan Sztuhar, Vancouver's junior designer, and Ivana Atlija (that's me!), Toronto's junior copywriter, teamed up to come up with a holiday gift for 2018 that said thank you and celebrated our unique client-agency relationships. Ideas ranged from (SPOILERS!) larger than life murals, to gif-tastic creations, to sprouting terracotta figurines. In a super high-stakes pitch to the partners, we presented each of our ideas with enthusiasm. What landed though, with no surprise, was the idea of creating a custom Pound & Grain bottle of booze.
What goes hand in hand with the holidays? Drinking. And how does P&G like to celebrate? You guessed it, drinking! It was an easy sell, and creating a custom P&G liquor was the perfect way to celebrate and say cheers to our clients. Now to actually make it.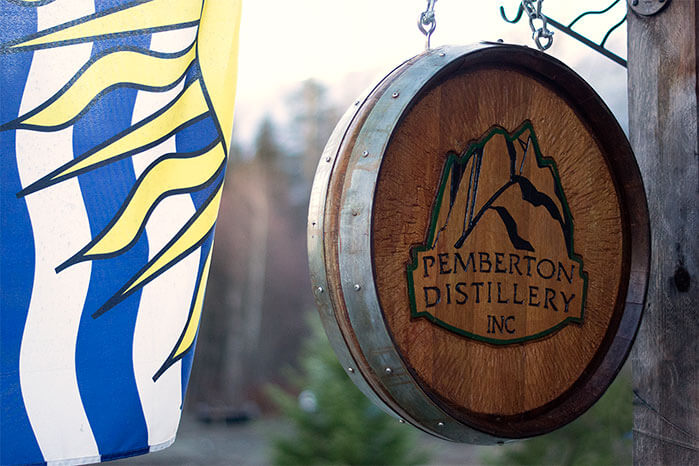 Welcome to Pemberton
The Choice
First, we had to find a way to bottle up our holiday spirit. While the idea of creating our own bootleg booze in Pound & Grain's basement was intriguing in theory, we decided to take the "legitimate" route and contact distilleries across BC and Ontario. After much deliberation, we went with Pemberton Distillery Inc., a Vancouver based, boutique distillery that specializes in small batch craft spirits. Similar to Pound & Grain, Pemberton is made up of some pretty cool people who are passionate about what they do and were just as excited about our idea as we were. They were the right choice. Plus, they were open to a fully custom label design, their gin is delicious, and they even provided fancy wax dippings for the bottles. And we like fancy!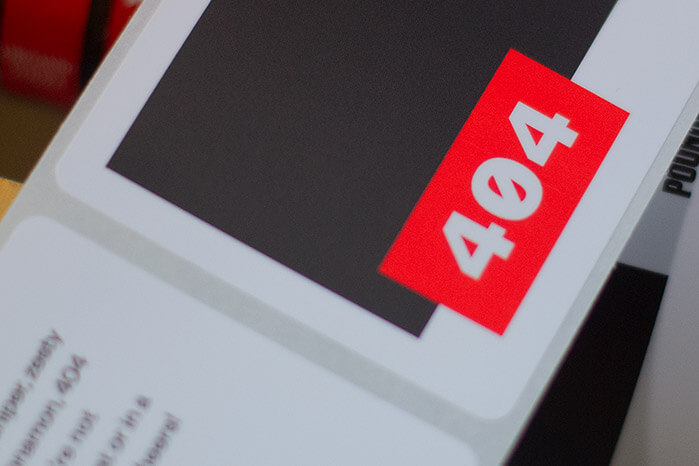 Custom labels for our custom gin
The Design
Now for the (even more) fun stuff! We had to choose a name for our gin and create a label. Do we focus on the hustle and heart of the Pound & Grain team? Should we name it something that relates to the soul we put into everything we do? Or do we go with an inherently digital name? In the end, everybody loved the name 404. Just like all the neat 404 Not Found pages you accidentally discover, 404 Gin is a pleasant surprise that you weren't expecting.
As for the design, we went with a minimal homage to our love of digital and used the Pound & Grain colours. We wanted it to stand out on a shelf and encourage people to pick the bottle up and explore what it is.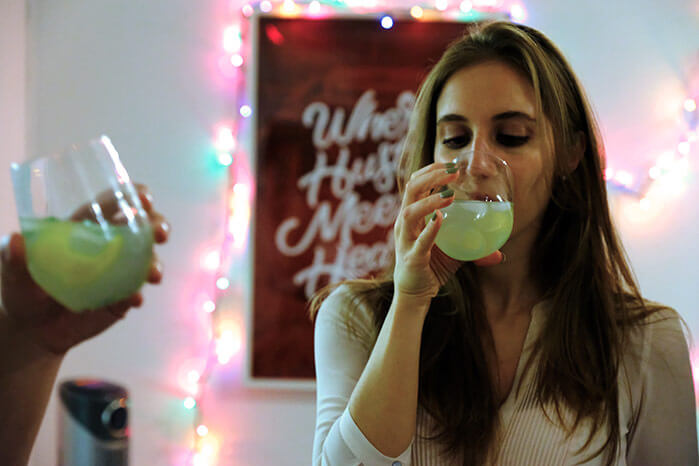 Happy hour!
The Recipe
It's happy hour! Not everyone enjoys their gin straight. In order to find the best tasting cocktail for our 404 Gin, we tested quite a few in the name of QA (Obviously not during working hours. Come on, who do you think we are?). Everyone's favourite was a twist on a G&T that was simple and not too sweet, letting the delicious juniper, orange, and cinnamon in the 404 Gin remain the hero of the cocktail. Sticking with our digital theme, and because it was so refreshing, we called it CMD + R.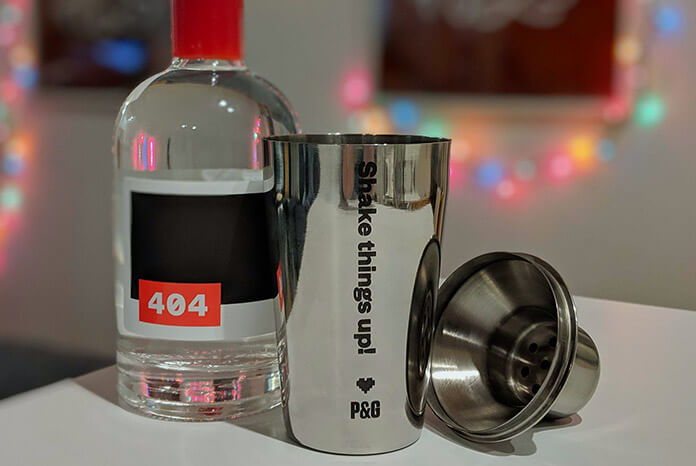 Sometimes you have to shake things up
The Oops
This is where things got a little shaky. Perhaps we jinxed ourselves by calling our drink 404, because (as per usual) something unexpected happened. Due to prohibition-like restrictions at the border, we were unable to send a bottle of 404 Gin to our American friends. Trust us, we tried. Everything. We even considered jumping in a car for a cross-border-booze-smuggling road trip. And while we like to push boundaries, law breaking is (usually) where we draw the line. Instead, we combined our hustle with our heart to create custom "Shake Things Up" cocktail shakers so our U.S. clients could get in on the delicious holiday fun, too. It was a sprint to get it done, but we did it nonetheless.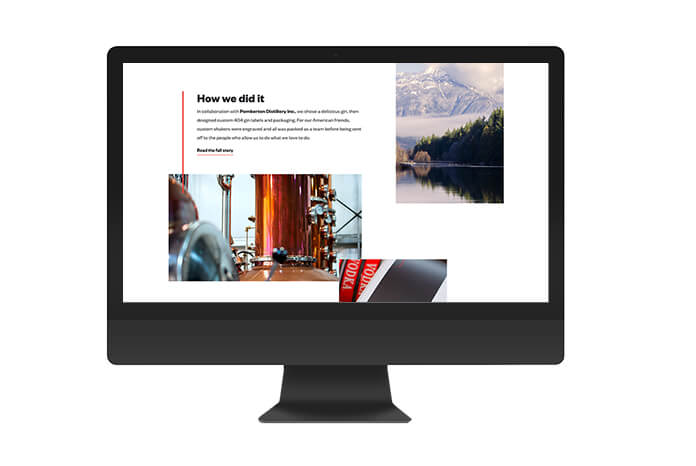 Pixel perfection
The Site
As a digital agency, we wouldn't be doing our due diligence if there wasn't a digital spin to our gift! To bring it all together, we included a URL for 404gin.com on the cards that accompanied our gifts. After writing and revising copy, and after designing and revising wireframes, we finally created a landing page that told the story of 404 Gin, housed our CMD + R cocktail, and featured tons of beautiful photography and video footage.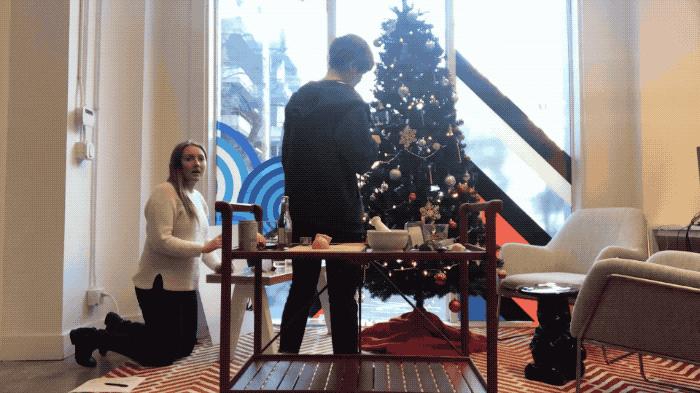 Where hustle meets heart
In Vancouver, Jane Lee and Jessica Luch helped Ethan shoot the product and recipe. Over in the 6ix, Andre Buno, Nick Kewin, Andrea Grech, and Scott Lew helped Ivana capture some photos of the custom shakers and CMD + R cocktail. All the pieces were then given to Dana Roberts A.K.A. Dev Dana A.K.A. Pixelglory to work his developer magic and make the landing page come to life.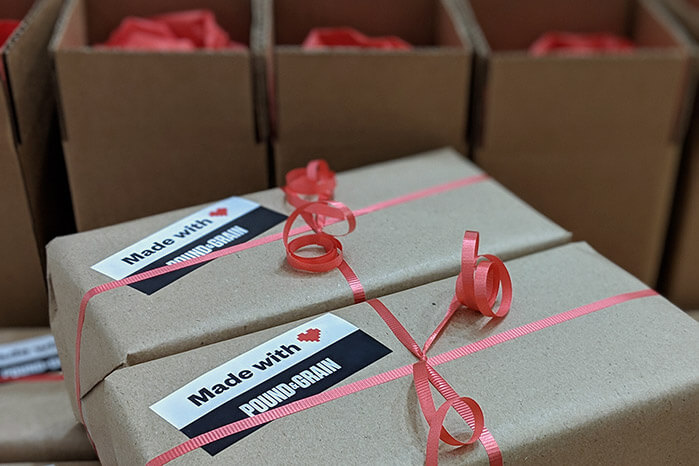 Made with love
The Packaging
Now that all the pieces were ready, teams of Christmas elves in both the Vancouver and Toronto offices assembled to add the final touches. 404 Gin bottles and Shake Things Up shakers were wrapped with care (read: bubble wrap), cards were added, boxes were built, and tissue and "Made With Love from Pound & Grain" stickers topped it all off.
Shout out to Carly Roy, our behind-the-scenes producer who, with the help of Gabby Rolvink and Christina Tsui, got all our bottles of booze in a row (figuratively and literally) and made sure that all our clients received their gifts via hand deliveries and/or sneaky "maple syrup" FedEx deliveries. But that's a whole other story.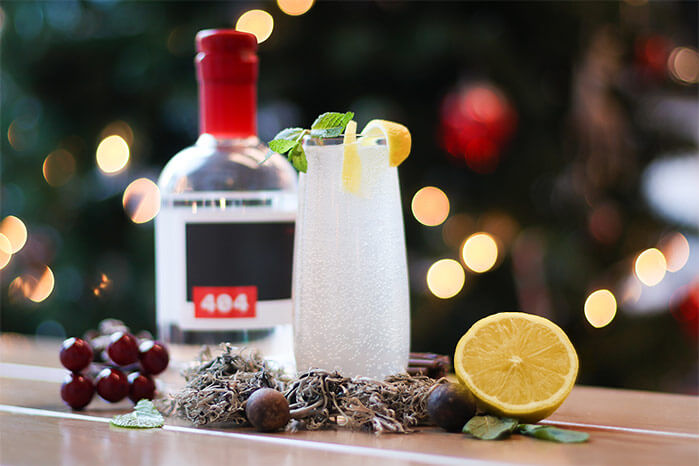 Voilà!
Cheers To You
Whether you're a client, a coworker, a vendor, or just an internet browser who stumbled upon this page, thank you from the bottom of our hearts (and empty glasses). Here's to the success we shared in 2018, for shaking things up in 2019, and the many more reasons for celebrating together still to come.