Ten Years Of Hustle.
What a difference a month makes. It's nearly the end of March, and the world is completely different. A few weeks back we captured some audio and video content, took some rare photos, and planned out how we could share a business milestone that was ten years in the making. 
Now, both of our offices are closed,  our team is working from home, and we're in the trenches with our clients helping to navigate the world we live in today. And despite the fact that we haven't seen our offices since March 13 and our home cities of Vancouver and Toronto have increasingly locked down, the principles that were formed through the ten years of business have continued to serve us well in a time of uncertainty.
Ten Years. Five Rules. 
On March 28th 2010 we started Pound & Grain. And coronavirus or not, ten years of building a business, designing memorable digital experiences, creating campaigns and producing engaging content is a reason to celebrate. And even though we're extremely proud of the work we've done and the partnerships we've formed, our biggest and most important accomplishment as an agency is the culture this team has built and the now engrained rules we try to operate on.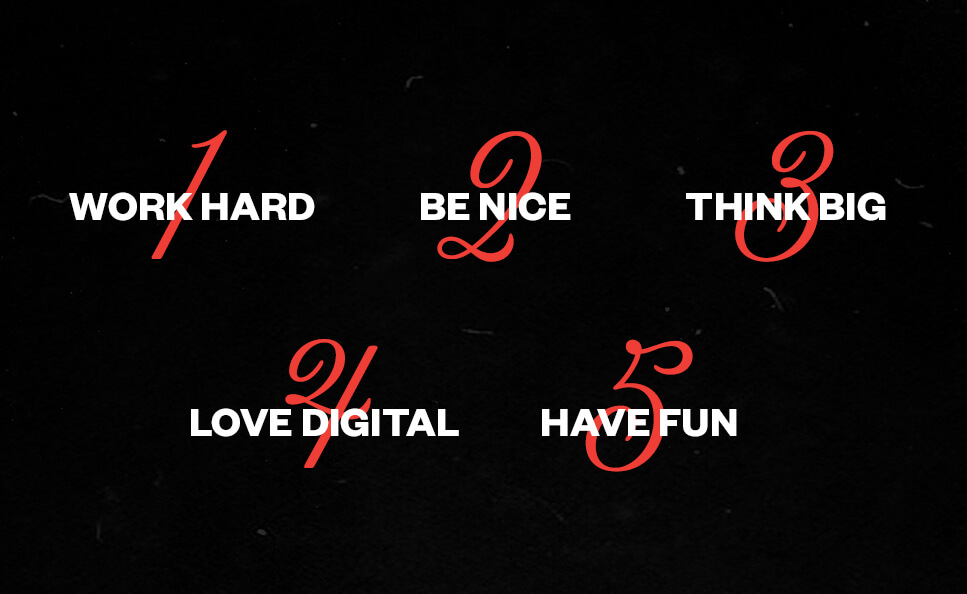 5 rules we've always lived by
Humble Beginnings. 
In 2010 Pound & Grain started as every bit the side-hustle people talk about now. Late nights, early mornings, grinding out banner ads and small websites and brand projects.  While working at a large traditional ad agency in Vancouver, Graham, Jackson and Tara saw how big agencies worked, how digital was marginalized for TV spots, and how overhead ate up budgets. In some ways not much has changed at all. What's interesting in hindsight, and in today's time, is that we needed an office at all. Then again, our first office was above a Burger King and I can still smell those fries. It was worth it.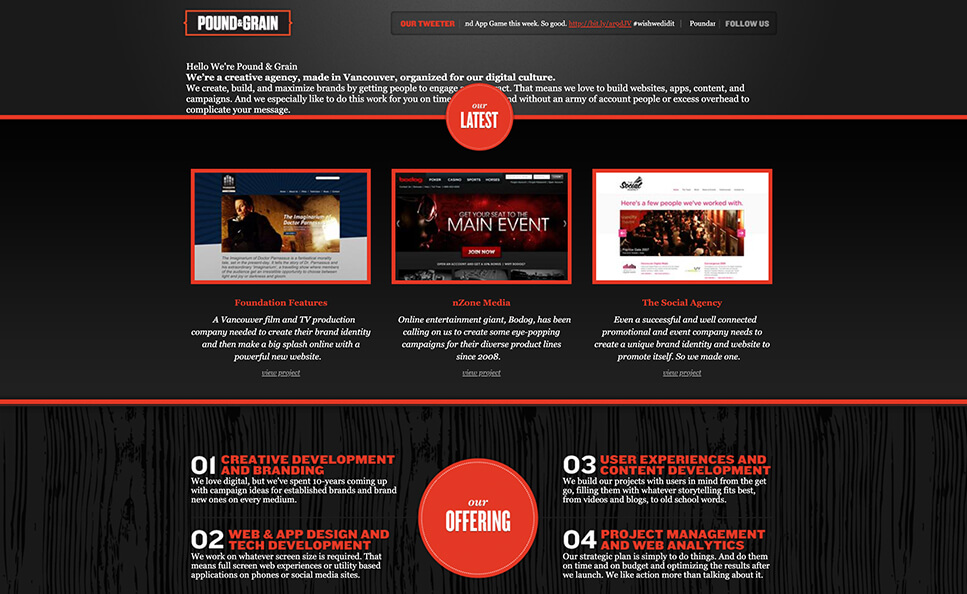 poundandgrain.com circa 2010
"In the first 30 days of us being in an office we had very few things to work on. Graham and I in our jeans, and just t-shirts, no staff. We put in a proposal to do a government website and got shortlisted. We flew to Victoria, to pitch it, and the other agency – who I'm not really sure at this point who they were, but I think there were five of them, and they were all dressed up in their ties, sport coats and looking super profesh – we looked like a couple of creative dudes. Somehow, we walked in there, pitched it, walked out and got the job. We didn't change who we were, we didn't try to be who we weren't. We said we could build them a good website, and we did."  – Jackson Murphy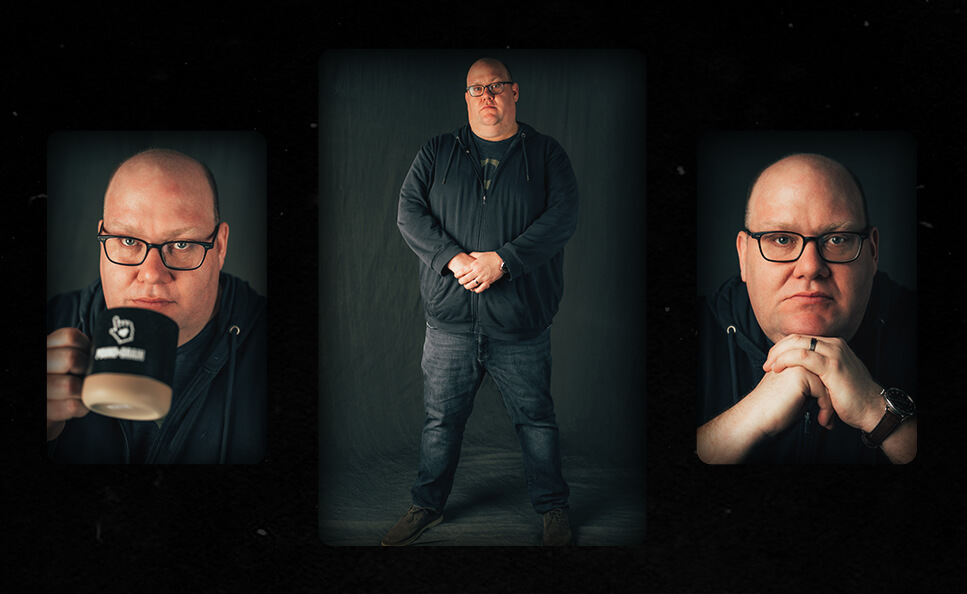 Jackson Murphy
OG Pound & Grain. 
Two creatives and one director of production was a really good start. We got off to the races and quickly started piling up exciting work for YYOGA, Future Shop, Rutgers University and Vancouver Coastal Health. That first Pound & Grain website was pretty minimal. We proudly proclaimed that "we especially like to do this work for you on time, on budget, and without an army of account people or excess overhead to complicate your message." That gap of new business and account leadership was clear.  And it wasn't long before we enlisted the help of our former boss, Sandy Fleischer to join the pirate ship.
"Graham, Jackson and Tara were at a place where they had done some incredibly solid work and every project or engagement they were talking about was exciting to me and for them, it was 'Pound and Grain is not a hobby, this is something we can take to really great places' and I was happy to jump on board."  – Sandy Fleischer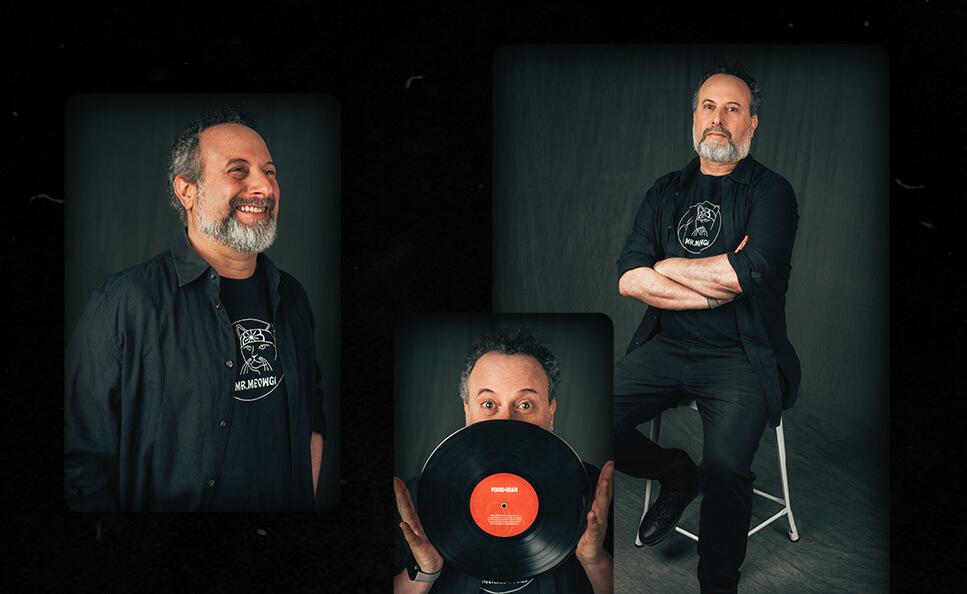 Sandy Fleischer
The Hustle Is Real.
Since those fledgling early years Pound & Grain has expanded to Toronto, grown to service clients across North America, and evolved to focus on the entire consumer journey through digital experiences and campaigns. But the intention for Pound & Grain is never to be the same giant agency we left ten years ago and be bogged down by layers of process and people. In fact, to this day we remain deeply involved in the work we produce on a day to day basis. Sure, we wear other hats as we have expanded over time, but the one thing we've tried to infuse into our company DNA is dedication to out-hustle the competition. 
"I don't think any of us thought we'd have this grand 100-person shop. I think for us it was, how do we build a business that's gonna be professionally rewarding and financially stable and how are we gonna provide jobs and stability to our staff and be able to give them good work and pay them well?"  – Graham MacInnes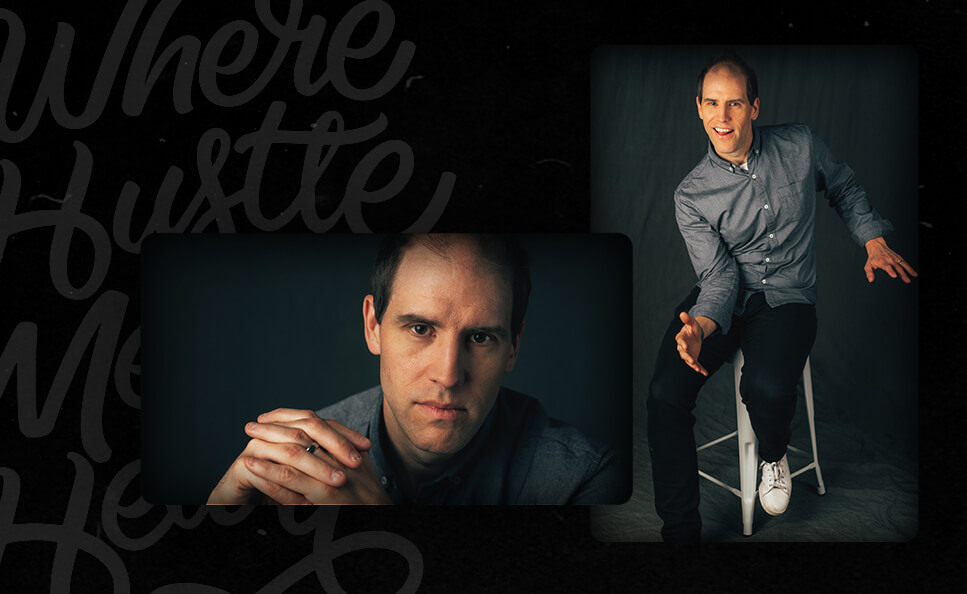 Graham MacInnes
Four partners with four perspectives over the course of ten years might seem like an uphill battle on the surface, but it's actually the opposite. One could argue that the partnership and the collaborative approach is one of this agency's biggest strengths.
"I think all of us-all four of us, have a lot of heart for what we do, and, you know, it's not without an immense amount of hard work and hustle and some really amazing people that have been with us on the journey throughout the process, these ten years."  – Tara Steinberg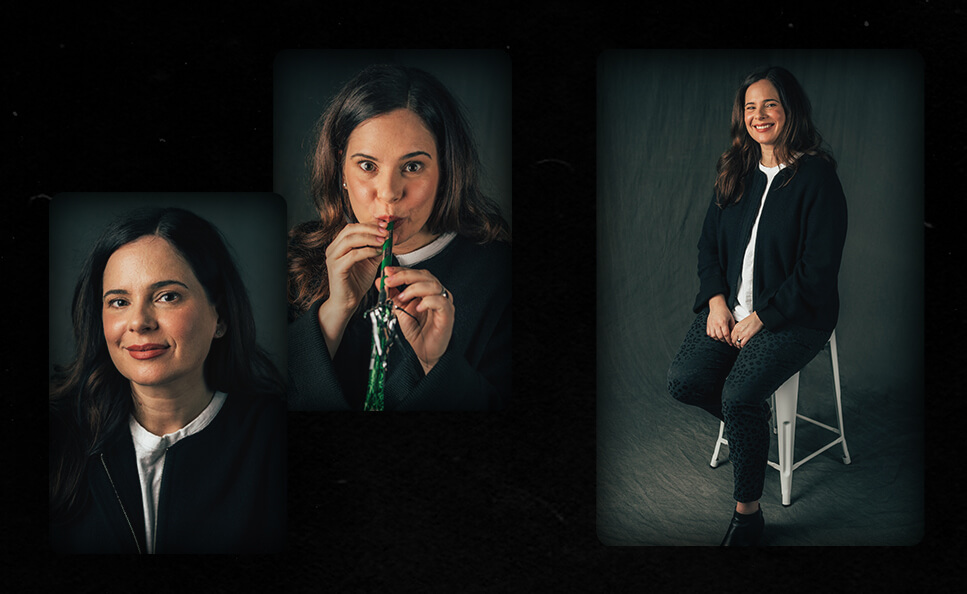 Tara Steinberg
Culture Is Everything. 
From our website, various publications and through some of the content we create, you can probably get a good sense of what it's like within the walls of Pound & Grain. But beyond all the work we've done with our clients, all the brands we've helped build and all the projects we've been involved with, there's still one secret ingredient that's been a constant for the last decade, and hopefully for the next ten years. It's our culture.
"I just think that gives me so much satisfaction, to know that we built a place where people feel good about themselves and they want to show up everyday and create great work and we're fulfilling that part of their lives or giving them a space to do that. That's what drives me and the other partners as well. I think that's something I always want Pound & Grain to be known for." – Tara Steinberg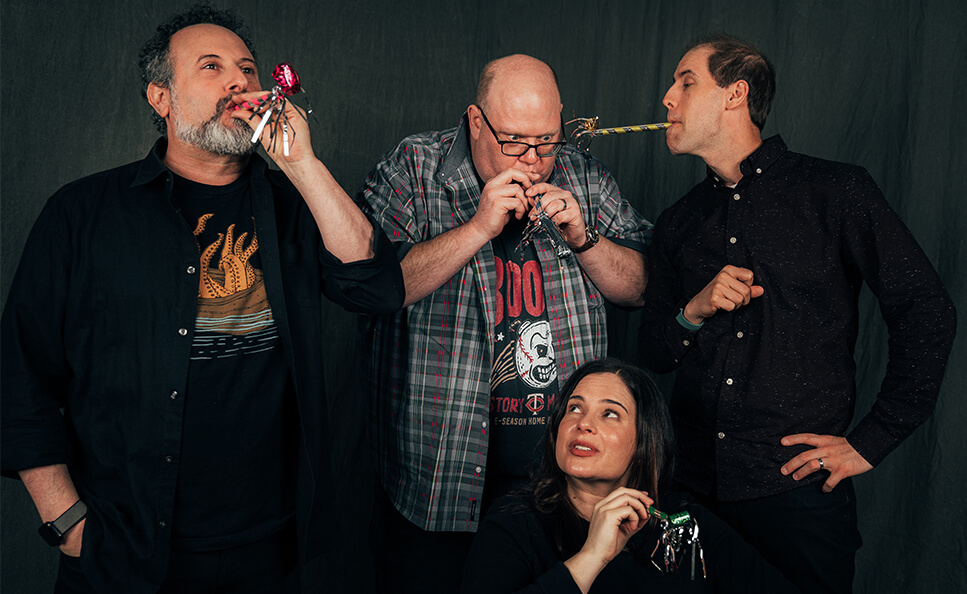 10 Years of Hustle
Commemorating 10 Years.
On March 4th a package arrived in our Vancouver office from our Toronto office. Inside, a set of numbered Pillbox Bat Company custom made Pound & Grain 10th Anniversary baseball bats. The limited edition set of bats was designed to celebrate the milestone of passing the ten year mark as an agency. 
Six limited edition bats one for each of the partners in the business and one for each office. It's humbling how much has changed since that package was sent. What hasn't changed is that they commemorate the agency's ten years of battles, at bats, strikeouts, and home runs we've hit over the years as a team.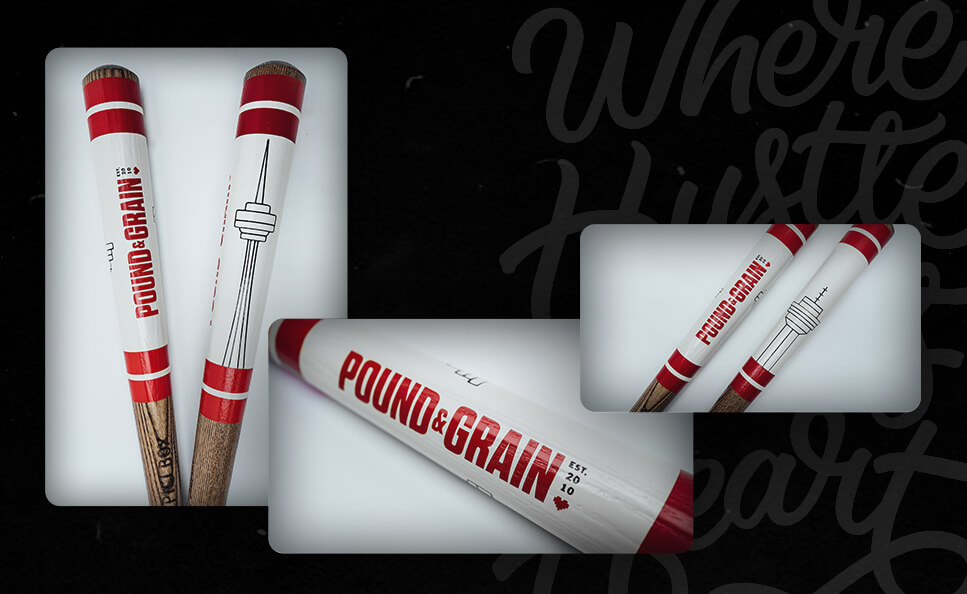 At bats, strikeouts and homeruns
As we embark on the next ten in the midst of a global pandemic, we continue to be blown away by each and every member of our team, and our team members over the years, who have helped make all of this all possible. 
Thank you.