A True Digital Partnership
When TELUS, one of Canada's biggest telecommunications companies asks for digital guidance and collaboration on some of their most important projects, we always answer the call on the first ring.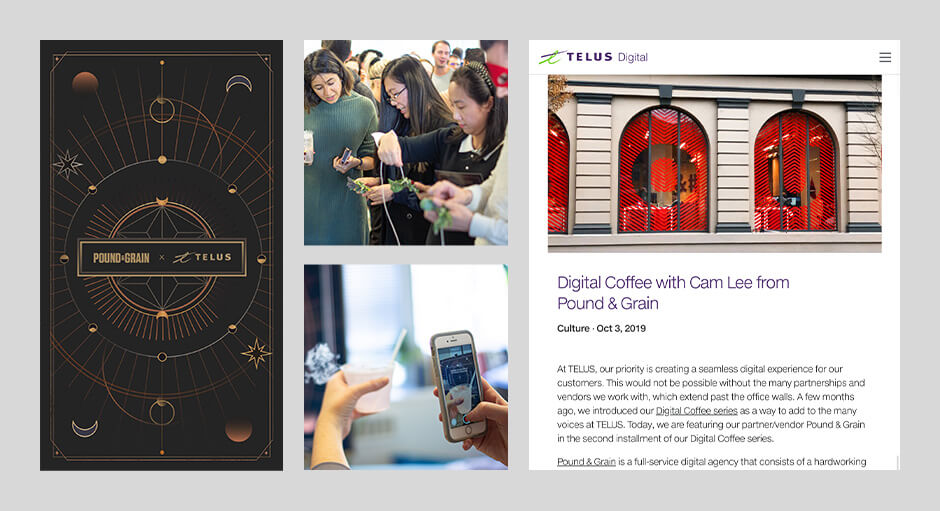 A Fab Collab
We've worked with TELUS on a number of high-profile digital projects, but we're actually most proud of our relationship with the brand and their internal teams. Over the years we've worked with TELUS to become truly integrated with their UX team and the overall brand. From apps and websites to internal projects like collaborating on their digital infrastructure, our teams work together on a regular basis. We've collaborated on an internal content series where TELUS interviewed some of our staff members, and we've even celebrated Halloween together, just to name a few. One team, one dream – amiright?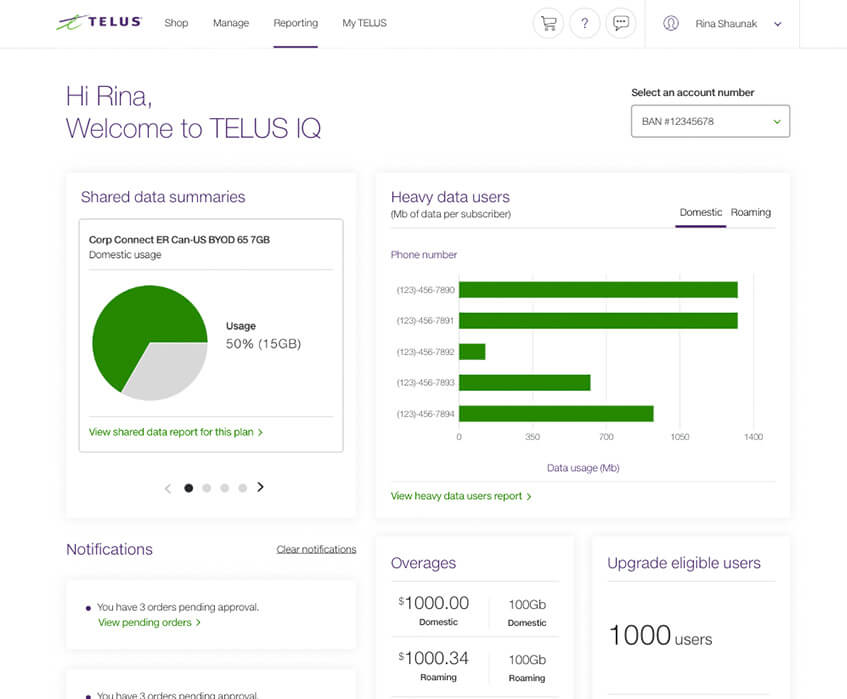 Brand Meets Functionality
TELUS was in the midst of launching their new Design System which included new colours, icons and UX elements. And with such a substantial change, comes the adjustment of some legacy platforms and features, including TELUS IQ. TELUS IQ is the company's enterprise mobility management program. Enterprises rely on this program to keep their employees connected and equipped with phones and phone plans. We were tasked to work with the TELUS design team to update the UI to match the new Design System guidelines as well as audit the user experience and make recommendations on how to optimize the user journeys through the core functions. Essentially we overhauled the design language and the UX at the same time. The result – a marriage between the new design and a user experience that flows in a much more natural way.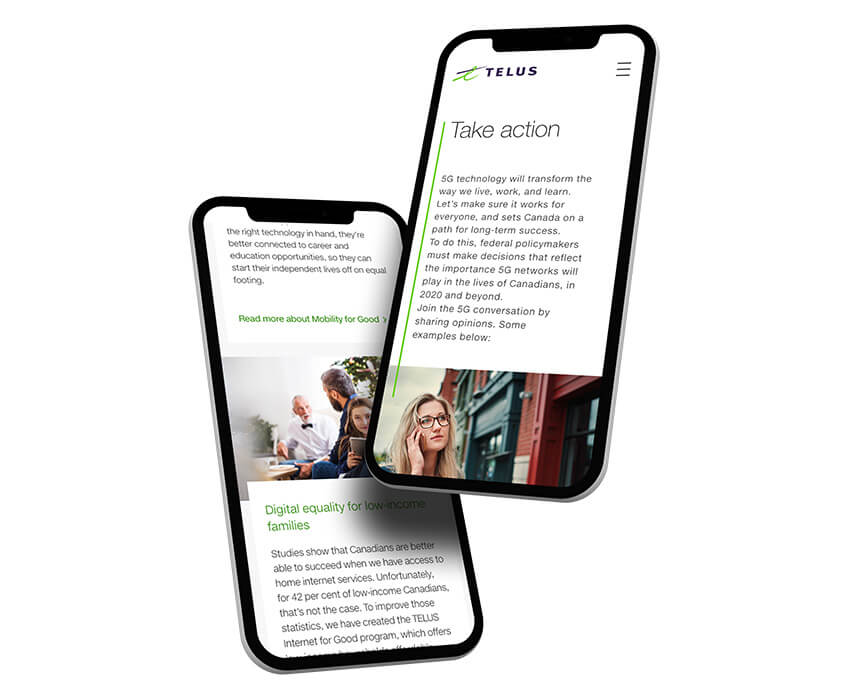 Preparing For a Connected Future
The reality of 5G is coming quickly and we got the opportunity to work with TELUS to explain what this means for consumers and different types of industries. The goal was to create a digital experience that tells the story of 5G in a uniquely TELUS way, while meeting AA Accessibility requirements. We looked at this as an opportunity to really push the limits of the brand and the ability to tell a compelling narrative. This was an important campaign for TELUS as they wanted to make a statement about their brand and what the future of 5G holds.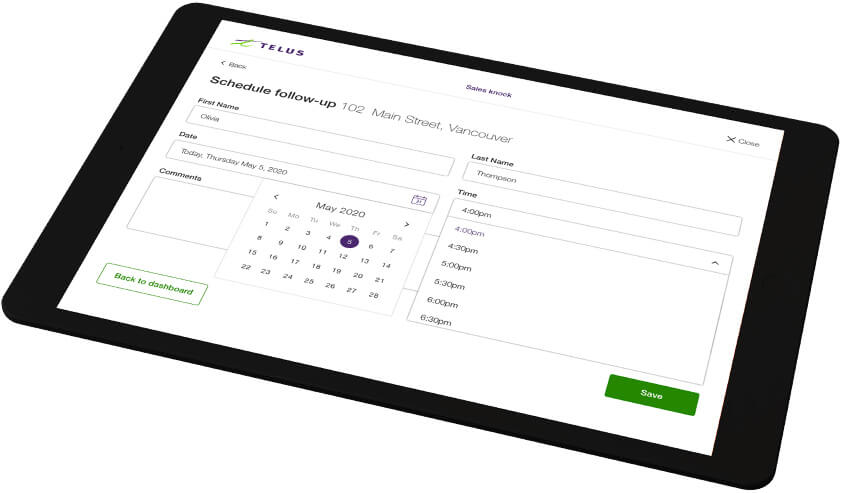 Rethinking The Door-To-Door Experience
Even in a digital-first world, person-to-person interaction is still a valuable asset. So, when TELUS asked for our help in rethinking a door-to-door sales tool, our strategy and design teams jumped at the chance. We took a deep dive into their existing tablet experience and redesigned it from top to bottom, always keeping the user in mind. We held focus groups, developed a new strategy for the tool's purpose, created wireframes and took an experience-first approach to the entire app.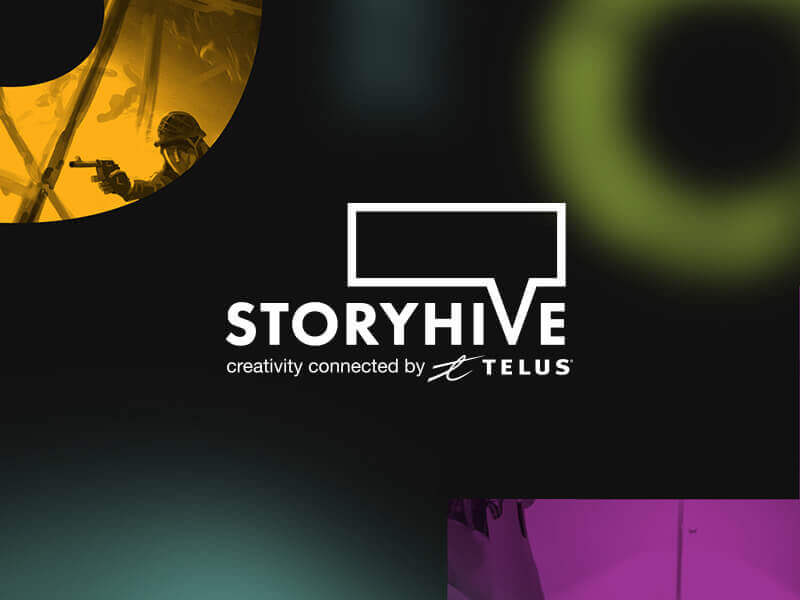 Connecting Creators
Fostering and supporting Canada's creative culture is a priority for TELUS, so when they created STORYHIVE to help filmmakers land grant money, we jumped at the opportunity to brand the entire program. We were challenged to create a comprehensive digital brand that outlines the STORYHIVE program and showcases and in-depth style guide that includes all the brand's unique colours, typography, tone of voice and essentially the rules of the road. The result is a digital guidebook that encopasses every element of the digital brand.

Connectivity as a Constant
TELUS is a true agency partner in that each project involves us working very collaboratively with a singular goal. As technology evolves and we're able to communicate across multiple channels, our team is dedicated to pushing the limits of digital connectivity as much as TELUS is.
Up Next:
Blurring the Lines of Advertising and Entertainment
When a Canadian cheesemaker makes the decision to go national for the first time, they need to think differently than the competition. So when Bothwell Cheese decided to partner with us for their first major digital campaign, we did what only felt natural to us… We stopped thinking like advertisers and started thinking like entertainers.