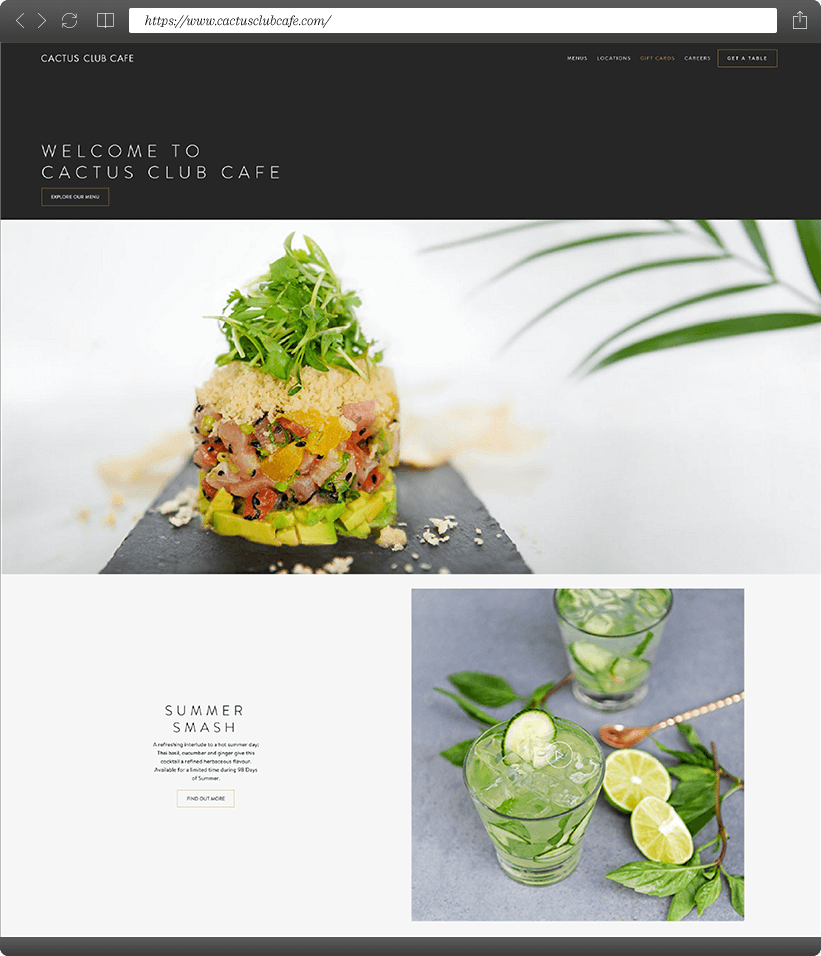 Where beauty and inspiration meet
With locations that are the very definition of inspiration and beauty, an easy place to start our journey was creating a digital home that was worthy of that ideal. The beauty of the locations lie in their environments, for the website we shifted the perspective inwards. We also added a recruitment campaign that aligned with the aesthetic of the website design and brand communication.
Creating customer first experience
Cactus Club is a place of style and elegance, where guests feel inspired by the style of architecture, design, and art that surrounds them. Beautiful food and location imagery present a refined, iconic feeling with minimalism and simplicity as a method to create focal points of communication. This was reinforced between the brand and guests by placing a customer first experience at the centre of the website journey.
A platform for recruitment
A big part of the website's job was supporting Cactus Club expansion tohelp find the right people to continue to fuel that growth. Our goal was to place those potential recruits at the heart of everything. The video, imagery, and messaging focused on the Cactus experience, and creating a world that recruits could really see themselves in. The premise was to create a path where anything is possible for inspired, dedicated people. There was only one question posed to interested candidates – Where do you want your career to go? The recruitment campaign was strategically steered using the website, videos, and LinkedIn to connect with and entice talented managers and chefs.
Cactus Club's new digital home is true to who they are and where they want to be in the future. The website is easily accessible and the recruitment process is now seamless, with top-level professionals looking to take their career to the next level.