A Story of Stories
Not to put too much fear into the eyes of brand and marketing managers, but if you're not at least considering Instagram Stories for your next campaign, you're already playing catch up.
In case you lost your phone 2 years ago and neglected to replace it, IG Stories burst onto the scene in August 2016. In just two short years it changed the landscape of social content and made quick work of the competition. The addition of IG Stories gave Instagram users even more control over their content with clips, stickers, gifs, tagging and even Superzooms, a feature that, among other options, lets you turn your story into a 90s-inspired after school special. And as with most shifts in social media, the ripple effect can be seen by how IG Stories has impressively become one of the most effective ad platforms in recent memory. Brands like Lacoste, Mercedes-Benz and the Gap have all seen success with IG Stories, and the list keeps growing.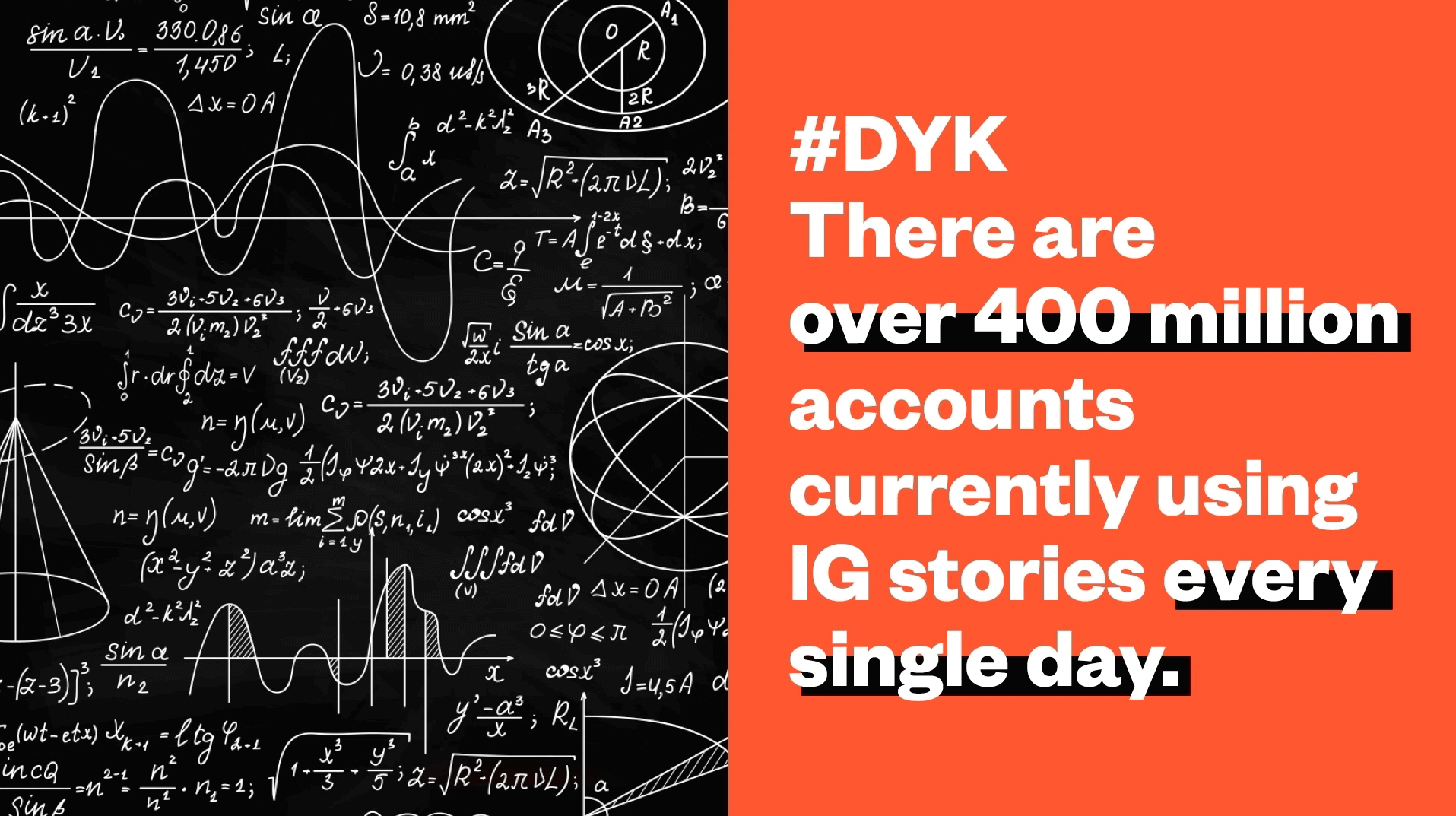 400 million people use IG stories
Numbers don't lie.
According to Instagram there are over 400 million accounts currently using IG Stories every single day. Let that sink in for a second. That's not just 400 million users, that's 400 million people creating, sharing and consuming stories each day. And it's not just one-to-one sharing, either. One third of the most viewed stories are actually from brands. And how many of these branded paid stories are being watched all the way to the end? Through the first five months of 2018, a whopping 72%! A lot of these stories are being consumed by millennials and Gen Z as roughly 68% of Instagram users between the ages of 16-24 are swiping right and consuming Stories in their entirety.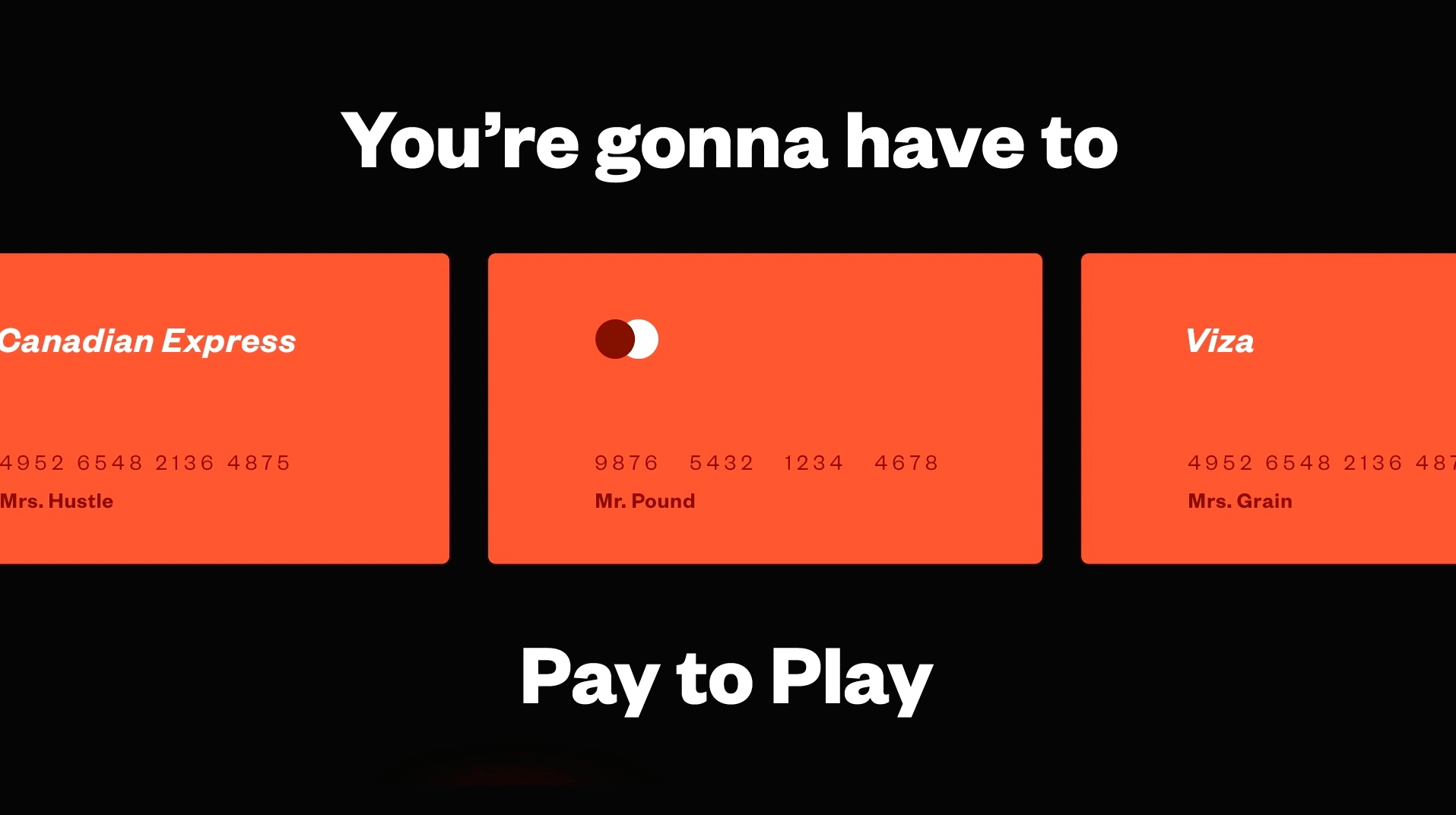 Organic content just isn't cutting it anymore
Pay to play.
Okay, so the numbers have convinced you and you want to start an amazing IG Story campaign that'll change how customers interact with your brand. Sweet! Slow down there champ, you can't just jump in the ring and start swinging. You need to know what works and what doesn't. Similar to most social platforms, the name of the game is pay-to-play.
A paid strategy allows you to take advantage of Facebook/Instagram's incredible targeting capabilities so you can reach those who are already interested in what your brand stands for. And let's be honest with ourselves, organic content just isn't cutting it anymore. For any impact at all you'll have to pay to get in front of the right people. The other aspect to consider is the general user experience. Consumers are already tapping through all the stories from their friends, and to interrupt that experience is going to come at a cost.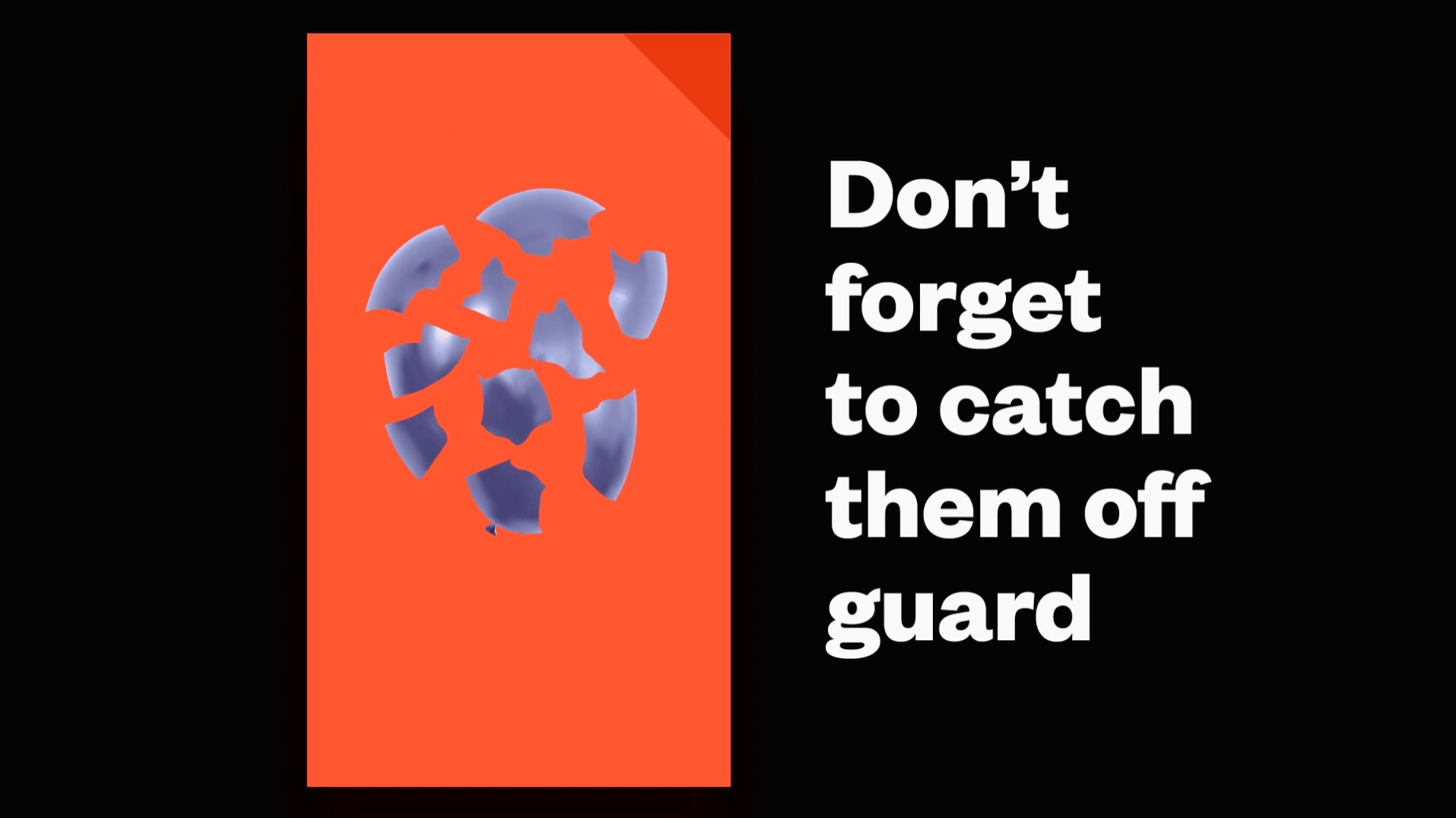 Engagement is key
Catch them off guard.
Deciding to invest in media is only the beginning. When it comes to IG Story ads, one of the most important aspects is making sure your content is entertaining. A good IG Story ad needs to catch viewers off guard. These ads are showing up in feeds where people are expecting to see a slice of life from a friend or celebrity they follow. Engagement is key and your content needs to provide enough of a tease to get audiences to swipe up and want to learn more. Your brand's content needs to snap them out of that mode of auto-pilot tapping to the next piece. If not, then it's the same as skipping commercials.
Swipe Up is the new Swipe Right.
IG Story ads aren't only great for awareness. With the Swipe Up feature, consumers can take some serious action. This is your brand's only opportunity to grab some attention and inspire someone to actively leave Instagram to visit your site or purchase your product. Studies have shown that users are swiping up between 15%-20% of the time. So, when you're designing your story ad, make sure to focus on the action.
Take advantage of the medium.
This year, IG Story ads evolved to include a carousel feature. This means brands can create a three-frame video or still image ads. This is a massive opportunity in storytelling in that branded vertical video content can now be upwards to 45-seconds in length. The old adage remains, less is more concerning quick and effective messaging, but the ability to tell a three-part branded story has huge potential. Another thing to consider is audio. We're not at the point where you can rely on a voiceover or anything, but studies have shown that about 60% of all story ads have been viewed with the sound on.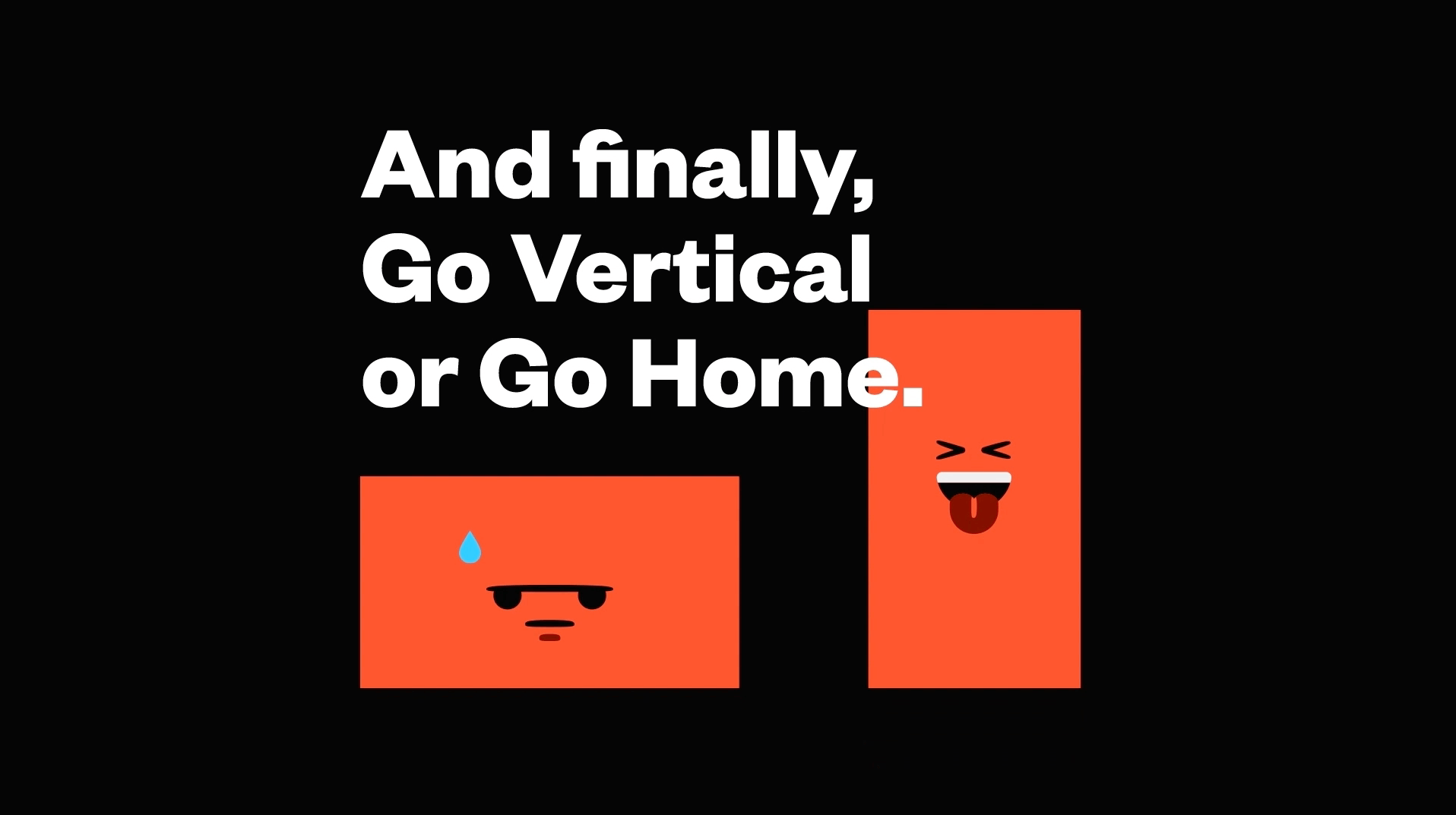 Integrate vertical content in your shoots
Go vertical or go home.
IG Stories are a vertical content medium, so you'll need to consider this as you develop ad content. You shouldn't have any trouble finding tips and tricks for creating engaging vertical content, so we'll focus on how it can be done economically. When your brand is developing video content for other channels (TV, YouTube, etc.) it doesn't mean you need to bring in a separate production team or even have a separate shoot day, it just means you need to keep your Stories content in mind. Plan to integrate vertical content in your shoot and you'll walk away with multiple assets.
Falling victim.
There's a lot to consider regarding the possibilities of IG Story ads, but there are also a few pitfalls. Namely, making sure your brand's look and feel comes through. Just because it's a vertical story doesn't mean you need to change the logo, graphics and photography style. Another watch out is overflowing the story with too much information. When it comes to text-on-screen, less is more. Keep it punchy and simple and you'll find a lot more success.
Finally, and this should be taken very seriously, don't force another piece of media into a story. I'm talking to you, mister widescreen 16:9 video crammed into a vertical IG Story. There's nothing more frustrating than seeing an IG Story ad that doesn't properly take advantage of the space.
Get in the game.
Since IG Stories has only been around for a couple of years, there's still a lot of room to experiment, especially with technology and user experience. We've already seen brands expand IG Stories to include shopping features, quizzes, and longer form stories, but we're still only scratching the surface of the possibilities. You also need to keep in mind that in the true nature of social media, things are bound to change and evolve at a moment's notice. Try to stay on top of the latest trends and capabilities of a channel like IG Stories. The only way to really innovate, it to truly understand the platform and what it's capable of.
Instagram Stories isn't just a gimmick platform designed to take Snapchat out the picture, it's a smart, effective and entertaining ad platform that brands need to take very seriously. The age of vertical entertainment is upon us, don't get caught watching everyone else.