What does Facebook, Instagram and McDonald's have in common?
They're all in today's Weekly Wins! Grab a drink, cheers to #Friyay and read on to stay in-the-know on digital marketing news.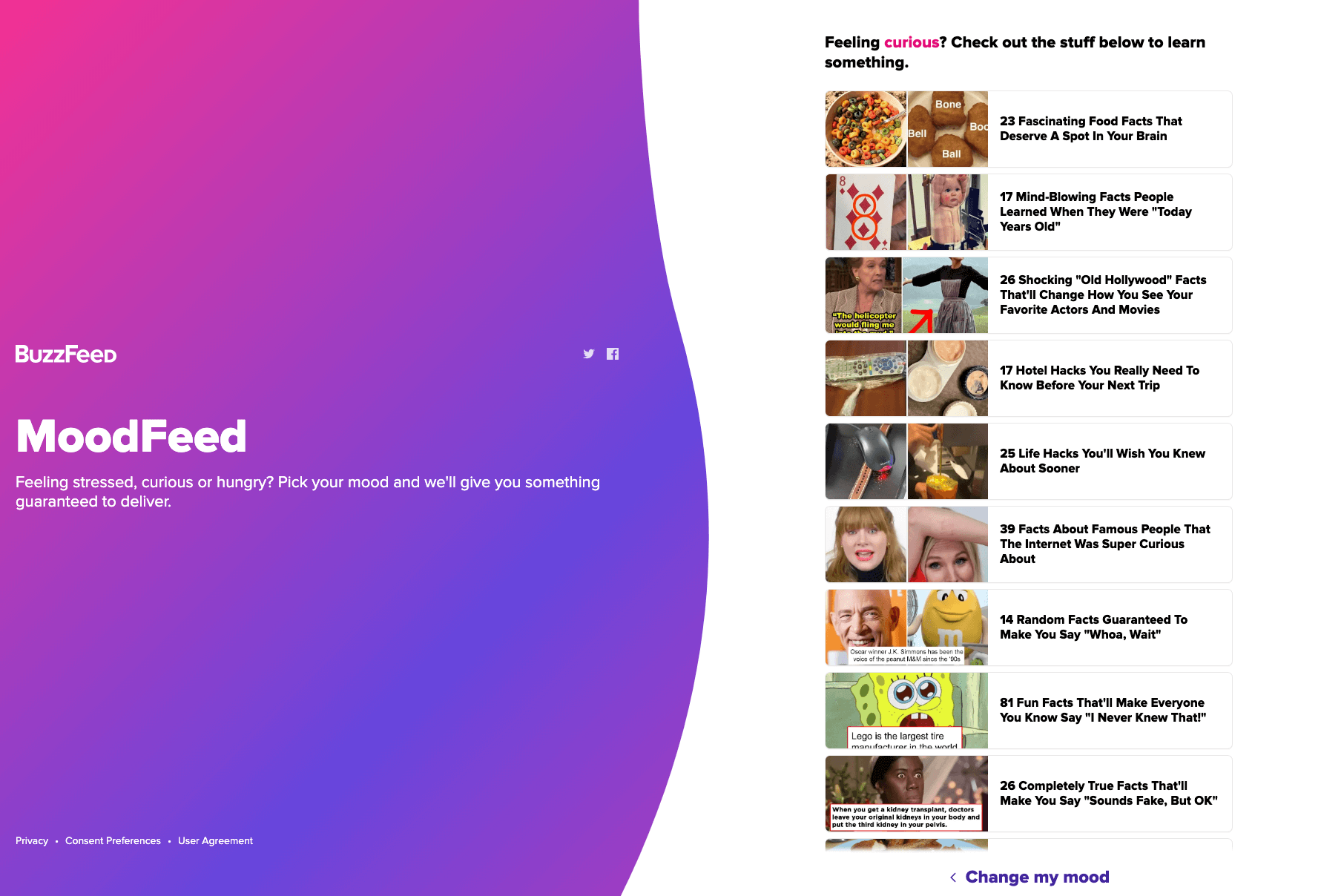 Goodbye boredom. Hello hours of content!
1. Introducing The MoodFeed
Love 'em or hate 'em, BuzzFeed knows what their audience wants. And what they want is always more content. Along with all the weird blogs, addicting quizzes, and DIY hacks they share, BuzzFeed has created what they're calling a MoodFeed. 
MoodFeed allows readers to quickly find BuzzFeed content based on how they're feeling. Are you hungry? Feeling nostalgic? Stressed? Not sure how you're feeling? BuzzFeed has got you covered. Just spin the wheel or select the mood you're in and you'll be given a ton of relatable content to consume. 
According to Talia Halperin, BuzzFeed's VP of Brand Management, this fun little feature is about "getting our audience engaged and excited in a non-traditional way." And they're even using AI tools they built to determine which articles should go where, and how often to refresh them. Nerds.
2. Facebook News News
A couple of weeks ago, Facebook announced that they were working on a "news tab" for their platform. This was received with skepticism because although it makes sense for Facebook to curate reputable news sources to their users, there's a (BIG) chance they could do it all wrong.
Thankfully, it appears that The Social Network is taking necessary steps to ensure the content they share is legit. Mark Zuckerberg stated, "We want this to surface high quality and trustworthy information." So, they're now hiring a team of journalists to work on its news section. That sounds like a step in the right direction!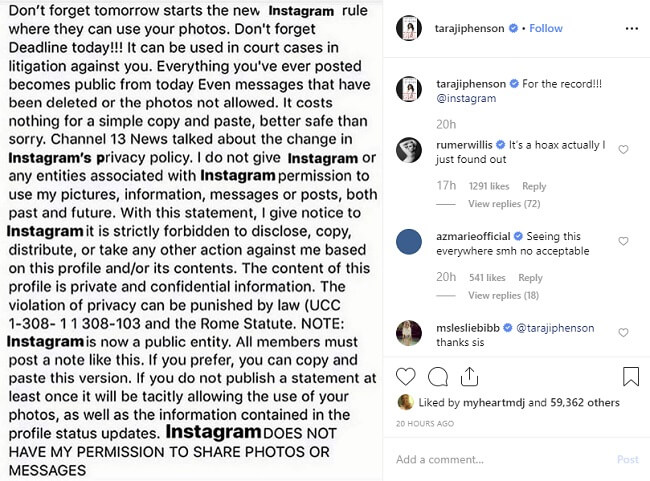 Don't believe everything you see on the Internet.
3. It's A Hoax!
This week in dumb social media moves, we're putting a bunch of celebrities who fell for a hoax on blast. A text image began circulating around Instagram that claimed their privacy policy was changing and that your photos would be up for grabs without consent. The note told people to copy and paste the image in order to opt-out, and people fell for it. People like Usher, Judd Apatow, and Julia Roberts (come on, guys, really?).
It seems people have forgotten that just because you saw something on the Internet, doesn't mean it's real. It also seems that people don't learn from the past, because fake news like this has been circulating for years. Stay smart out there, folks.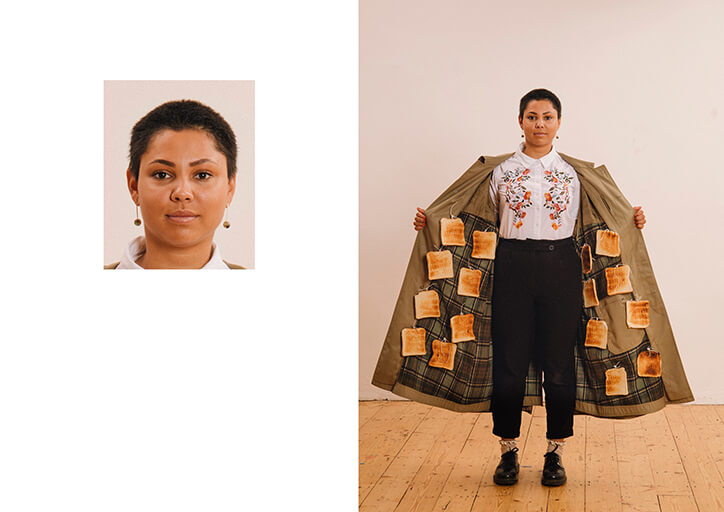 Surprise! Toast trench coat.
4. Say Cheese! But Don't Smile.
Passport photos are designed to make you look… not great. You're not allowed to smile, have to keep a straight face, and sit in front of a boring, plain background. Well, Namibian-German artist, Max Siedentopf, had had enough and decided to have a little fun with them instead.
In a new body of work titled "Passport Photos" (duh), Siedentopf created a series of portraits that, when cropped, appear like regular ol' passport pics. But when you look at the entire image, you see a series of wild, bizarre characters in strange scenarios. It's almost like when you see a photo, you're not always getting the whole picture. 🤔 Especially on social media. #foodforthought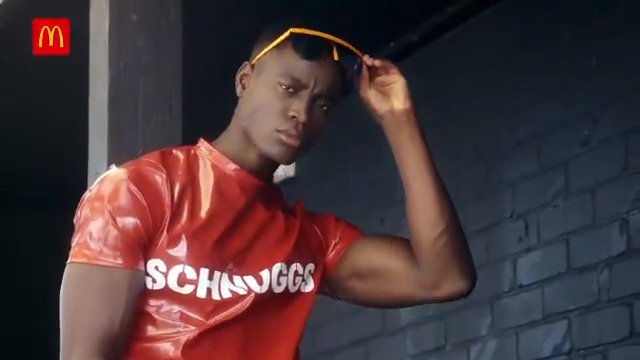 But I want it to be real.
5. Schnuggs From McD's!
Hooray for more Mickey D's merch! Well, kind of. To announce the launch of McDonald's new Spicy McNuggets (unfortunately only available in the UK, sorry), they created a faux fashion line called Schnuggs to "draw a parallel between the hot nature of grab-it-while-you-can apparel collaborations like Supreme and the long-demanded spicy version of the chain's classic McNuggets." 
It's fun and lighthearted and pokes fun at this popular marketing trend. But I have some questions. Aren't they kind of mocking their Gen Z audience who loves to rep fast food branded merch? Or are they just jumping on the bandwagon in an edgy way? What do you think?