Yessssss! Weekend time! Here's a roundup of some of the digitally focused fun you may have missed from the past week. 
Humanitarian profile pics, IG outage, Jake Gyllenhall and more in this edition. 
1. Blue for Sudan 
You may have noticed that the profile pics of some of your friends on Instagram have switched their profile pictures to a deep blue dot. If you were wondering why that is but have not taken the time to figure it out, you didn't do it right. You were supposed to Google it to learn that there is a humanitarian crisis happening in Sudan. 
The trend has been taking root since it was first proposed by humanitarian, Remaz Mahgoub Khalaleyal through his Instagram account, @reresolve. It's in response to media indifference from the west and a social media blackout in Sudan. So far it's been adopted by celebrities like Demi Lovato, Rihanna and Ariana Grande. Social media for good is always an amazing thing. It has the power and influence to bring about some real change in the world. Just don't forget to use all of the power that you have to help your the Sudanese people suffering abuses at the hands of their government. If you want to help, donate here.
2. The Day the Earth Stood Still 
On Wednesday this week, the unthinkable happened: Facebook went down and it took Instagram and Whatsapp with it. Well, not completely. Some photos and videos on the apps had difficulty loading. Still, the outage was enough to have social media junkies up in arms. They were forced to do whatever it was that we all did before Instagram for a day. Not the end of the world. Still, there was a palpable sense of dread in the air with no end to the outage in plain sight. Would our favourite social media channels be down forever??? If so, how would we survive? It felt like a brief return to the stone age. 
But how, could this possibly be considered a weekly win, you may, justifiably, be asking yourself. 
Well, just one day later, all functionalities were restored and we found ourselves back in social media-land. It turns out that it was a minor issue that occurred during maintenance that knocked some of the functions out. 
Scary to think that our treasure troves of memories could be wiped out with a minor hiccup but for the time being, all's well that ends well.
3. AI Pic Descriptions 
One interesting thing that came from the Facebook outage was a bit of insight into the AI picture labeling system that Facebook employs. 
In short, what we got a glimpse into is the image tags that exist behind every one of our uploaded photos. 
So instead of seeing our pics on Wednesday, we saw descriptors like, 'Maybe: nature scene' or 'people and dog'. 
Weirdly, and somewhat creepily, names were often included too, due to Facebook's facial recognition algorithm. A glimpse behind the digital curtain was pretty neat. Many a man found themselves reduced to their most basic qualities, specifically, 'one person, beard'.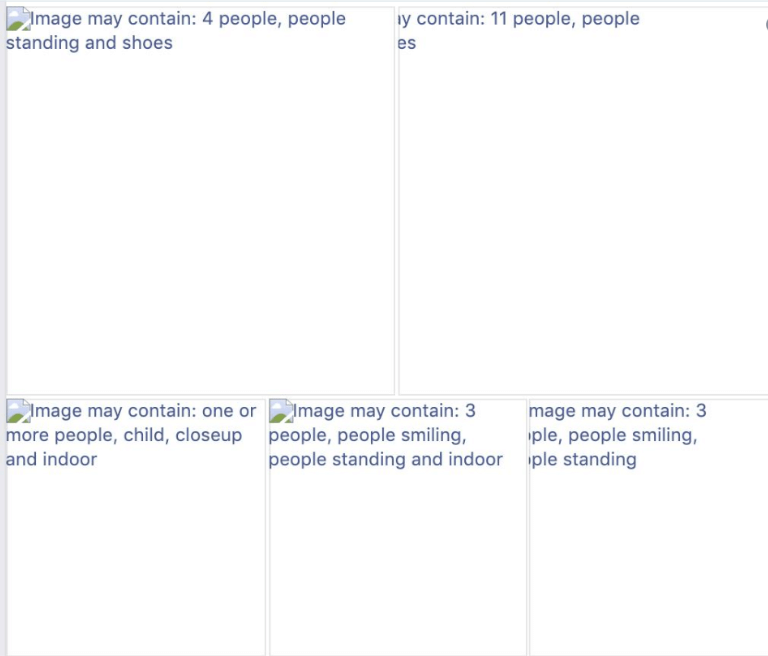 Facebook Labeling
4. More Instagram News! 
Instagram's stickers function just keeps on evolving. This week Instagram announced that stories would allow users to create group chats with stickers. 
The sticker, labeled 'let's chat' could be applied to their story. Audience members that click on the sticker will be directed to the chat, which is moderated by the story creator. 
This newest addition to the story function is just one more way that Instagram is letting its users interact with the community that they've cultivated.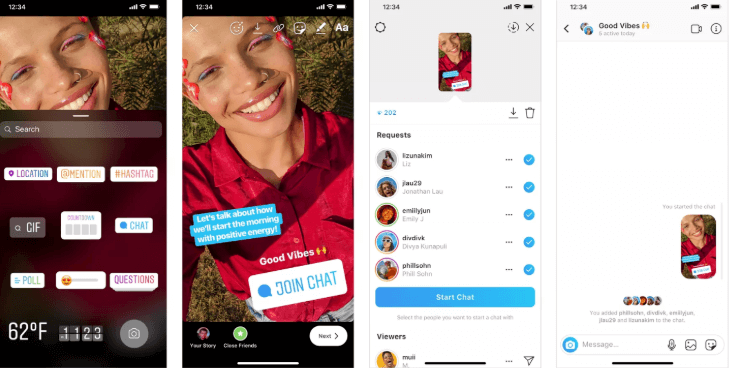 Sticker news!
5. Gyllenhall Jokes 
Let's keep the Instagram theme going, shall we?
After abstaining for years, actor Jake Gyllenhall decided to join Instagram this year after deciding that 'no one cares about anything anymore.' It could be easily said that no one cares about anything anymore since the news cycle is about four minutes long and it's even shorter in the social media world. In particular, a certain leader of the free world seems to be able to get away with just about anything, so Jake's is a fair assessment. 
People love it when celebrities seem just like regular people. It turns out that Jake Gyllenhall is pretty funny. If you'd like to be amongst the 300 million people that follow him on Instagram, click here.