Another five days of ups and downs are in the books.  Here are some shining star moments that stood out. 
Instagram tests hidden likes in Canada, podcast promo, VR for good and more in for the latest edition of the Weekly Wins.
1. A World Without Likes?
How do we gauge the merit of a post without likes?
The gold standard of success in the social media world, the ubiquitous 'like' may be reaching a new era. Instagram is testing invisible likes. Only the user will be able to see the likes that their post generates. Right now the test is only taking place right here in Canada, eh.
In a time when social media platforms are struggling to address public concern over how their products affect our mental health, eliminating the like is an attempt to even the playing field and allow content to rest on its laurels, rather than existing as a popularity contest.
Of course, the like also works as a boost that tells algorithms to display an image in higher ranking order. So what does the end of the like mean for brands? Yet to be seen. Most likely it will mean the same as it does for individual creators, that content will need to work harder to cut through the clutter to be seen.
2. Podcast Cross-Promo
Regular readers of the Weekly Wins know that we are big fans of podcasts here at Pound and Grain. We're also big fans of cross-promotion – don't forget to listen to our podcast, Version Control!
This week, podcast startup RedCircle released a feature that allows for simple cross promotion for content on its platform. Creators are given opportunities to align with shows that suit theirs to give each other a boost.
Similar to Anchor, the podcast startup that was recently acquired by Spotify, RedCircle is setting its focus on the entry to the mid-level creator. As the value of podcasts continues to scale, it's amazing to see a company promoting the grassroots talent that made podcasts so interesting in the first place.
In additional podcast news, Overcast released a feature this week that makes it easy to share show highlights to social! Read about it here.
3. Vertical Visionaries?
Do millennials (or anyone else for that matter) want vertical TVs?
Samsung says that they do. Though it doesn't give any definitive reason as to why or point to any hard science behind the statement. It appears that Samsung is relying on the ubiquitous popularity of the smartphone/social media experience in its assumption that the vertical TV is something that people have been pining for.
No, says all compositionally minded creative types.
Yes, says Samsung, who believes that people want to cast their phone content in living room environments.
Of course, the audience is always right and for creatives already working in the social-scape, the vertical screen has been a part of the palette for quite some time. So the new Samsung Sero is an experiment that may just take off.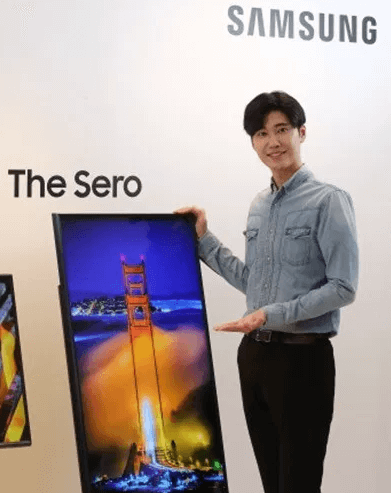 Enjoying his vertical TV.
4. Game of Tones 
The whole world, it seems was primed for excitement this week when Episode 3 of the final season of Game of Thrones aired. Battle was series-long in the making and tensions were high. The episode was bound to spark conversations.
When the smoke cleared though, the internet chatter was not quite what HBO had been hoping for. Viewers found the episode to be too dark. Literally too dark.
This led to the Cinematographer for the episode to publicly lay the blame on improperly calibrated TVs, the science of compressing data for varying devices and decisions made on HBO's end.
The moral of the story is that even our incredibly impressive level of technological advancement isn't enough to accommodate everything that our imaginations can conjure. Or it's that even the most well funded and popular show of the modern era still makes some gaffes.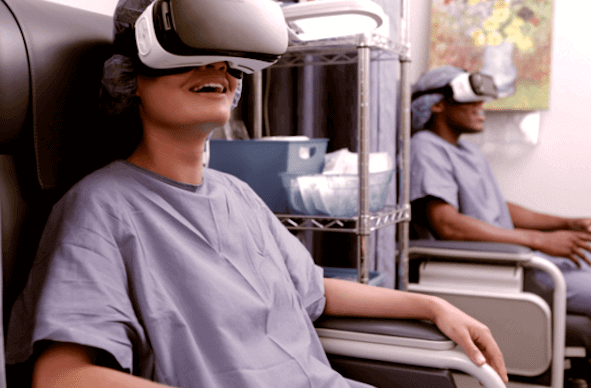 VR for good.
5. Pain Game
Tech for good is what tech should always be used for. It's the pinnacle of what we've always been trying to accomplish with our technological advancements. More often than not, the world of media is left out of this. It is viewed as idle entertainment, nothing more.
There may be no greater example of the opposite of this than virtual reality purposed to alleviate pain. A New York Times article released this week detailed how that process looks. In short, the lush landscapes and constructs that VR allow us to be a part of take up too much of the brain's energy for it to process anything else. Even pain. Though it is in early stages, a pioneer in the process, BreakThrough Physical Therapy, hopes that the procedures that they are developing will roll out en masse in the near future.