Welcome back to Talk Nerdy to Me
Our fireside-style Slack-Chats with Pound & Grain's resident geniuses where they get a chance to completely nerd out. Today, we're talking to Art Director Jessica Luch, and her role in bringing Pound & Grain's new website to life.
What inspired her, the challenges in creating something for the people who pay your bills, the pressure, the expectation, the teamwork, and bringing the combined vision to life.
MICHELLE – Let's start with what your role is here at Pound & Grain.
JESSICA – I'm an Art Director, but I pride myself on being a top-notch-dirty-dishes-shamer (wash your dishes people!).
MICHELLE – I can second that! So, it's time to dish out the goss (like what I did there?), what's the real difference between designing a site for the company you work for vs. building a site for a client?
JESSICA – I find it much more difficult than designing for a client. The 'client' in this situation are the ones signing your pay cheques, so the pressure is high. Luckily for me, the partners have all been great, so it was all self-inflicted pressure to make them proud. The process ended up being painless; I got the sense throughout that they trusted me and backed my decisions.
MICHELLE – Nice, can you tell us a little about your work and influences?
JESSICA – I'm very much a digital designer, so my work is heavily influenced by good user experience and user interface based design. My education was marketing based, so that adds some business flavour into my approach as well. But at my core, I'm still a designer, and on occasion, I have been known to thrown user experience rules out the window for the greater good of user delight. I think it's incredibly important to have best practices inform your decisions, but you need to tread carefully when you start to put hard and fast rules on something as fluid as an experience.
MICHELLE –  In a sentence how would you describe the visual style of the website?
JESSICA – Gorgeous. Beautiful. Positively stunning. *All narrated by David Attenborough
MICHELLE – What was your greatest design challenge?
JESSICA – Because I'm in the P&G brand every day, it was a bit tricky determining where we needed to tweak visual communication. It's hard to differentiate your opinion versus how your target market might see the brand. As all brands do, ours has evolved over the years. So tying the new site into the brand evolution was an interesting experience. The old site needed love from a design perspective, but also from a functionalist perspective as well. The backend needed more umph, and overall we needed more flexibility.
MICHELLE – What types of changes did the old website inspire most?  
JESSICA – Hahaha, it sounds crazy, but the width of our old site drove me nuts. I also wanted to update the dark background on the blog. I find users can often have a hard time reading extended amounts of white text on a dark background. Short paragraphs are usually fine, but with the length of the content we had on the blog, it needed to be addressed.
MICHELLE –  Who did you work most closely with?
JESSICA – I almost always work closest with the developer, in this case, Andrew Baxter. He's been fantastic throughout this process. I really enjoy working with him because he is patient with the design side. Translation: he understands where I'm coming from when I log 24 quality assurance tickets on the way the text transitions. As payment for putting up with me though I photoshopped him into a 1940s war hero when we launched. Overall, I get the sense that he's passionate about what he does, he's keen to stick with you and help you realize your vision for the love of his craft.
MICHELLE – Wow, I hope Andrew reads this. How did the strategy affect the process?
JESSICA – I don't think you can have meaningful communication (or design) without a great strategy. With regards to the Pound & Grain site, we approached strategy by looking at what users were doing on our current site, pain points externally and internally, our competition, where our brand is and where we want to be, as well as a few other secret-sauce stuff that informed our decisions. Though this process was a bit fluid internally, it wasn't as formalized as it is when we do it with our clients.
MICHELLE – On that note, did you have to compromise on anything?
JESSICA – It's a funny question because I wouldn't call it a compromise. We changed things throughout, but once stakeholders explained their perspective, we made the changes together. Changes from mutual understanding are great because you both feel like you're stepping closer to the right solution. There wasn't a situation on this project where someone said 'Do this, because I said so'. That's not the way we work at Pound & Grain.

MICHELLE – Really? While I agree we're all pretty awesome here at P&G, there's still always a bit of friction in the pursuit of pixel perfection.
JESSICA – Well alright, from a technical perspective, there's always compromise. You have to strike the perfect balance between an interesting user experience and the site's load speed. Originally, we had a lot more animated gifs of the team on the site, but we had to cut down on those because the page was taking way too long to load.
MICHELLE – Last slack message (promise)! Which page are you most proud of?
JESSICA – To be honest, I'm proud of everything. But if I had to pick something, I would say that I'm proud of the secret things, I hid a lot of easter eggs in the site. I'm from the design philosophy that, especially on the internet, an impactful experience is born from delight. I strive for unexpected delight, usually subtle, that satisfies the user. It helps with making the site memorable and stand out from the rest of the clutter on the internet.
In the case of the Pound & Grain website, it's small things like; a smiley face in the button when you submit your email to our newsletter, or the 404-page message when you get all of the trivia questions wrong, or what happens to the browser tab when you open another page. I live for those kinds of quirks.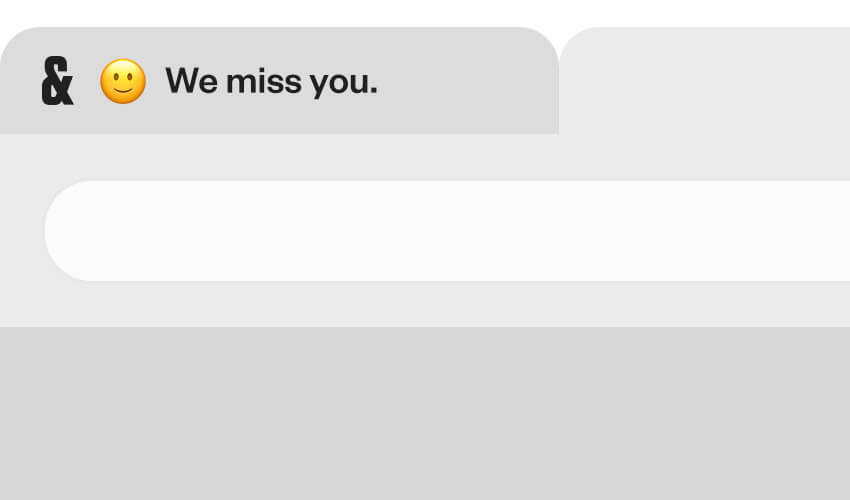 The power of an unexpected emoji
Thanks, Jess!
Enough chatting (reading), you're already here, but go see the site for yourself and let us know what you think.