Just like dabbing and rainbow-infused bagels, using still images when you're marketing your brand on social media is so 2016. What's hot now? Movement, video, interactivity and brands that are developing channel-specific content. 
If you're thinking a mannequin challenge is going to change the way people think about your brand, you're probably right – they're going to start thinking your brand is irrelevant. But if you're looking to stay on top of what's hot and how to remain relevant to a social audience, here's a few tips and tools help you out.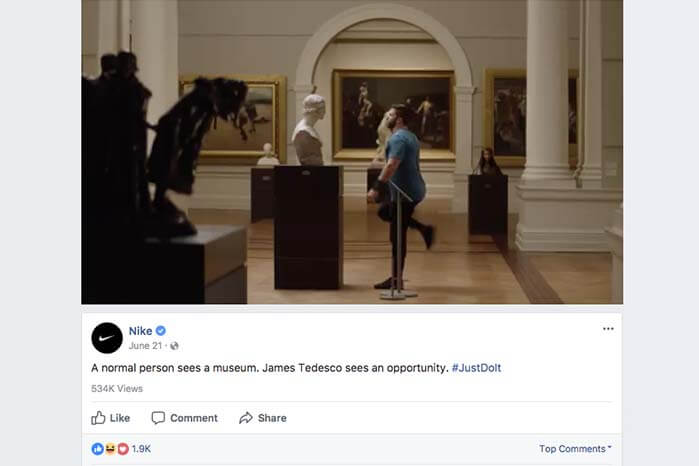 Quick and compelling intros are key
1. Make Your FB Video Ads Stand Out
As any good media partner can tell you, there's a huge difference between simply posting a video on your brand's Facebook Page and buying a Facebook Video Ad. The ad will generate views from a relevant group, while posting an organic video is like fishing without any bait. But with Facebook Video ads, there's a few important things to keep in mind.
The first is timing. When people frequent their social channels, it's not like they're sitting down to binge a TV show. Their thumbs are flying across their smartphones at lightning fast speeds, scrolling past anything that doesn't immediately capture their attention. You need to tell your whole story within 15-20 seconds and you only have 1-3 seconds to grab their attention right off the top. A great example of compelling and quick storytelling is this Facebook Ad from Nike.
The second tip is understanding that 85% of all Facebook videos are being watched with the sound off. This means your videos should be watchable without audio, so make sure the branding is clear and you're not relying on a voiceover or audio queues to get your point across. Check out this video ad from Knorr for a good example.
The third pointer is an old school one – write an interesting and punchy headline in 150 characters or less. Sounds easy, right? Just don't share that sentiment with your copywriter.
2. Explore New Tech
With the rise of micro-content, video editing technology has been on a serious upswing. Depending on the type of story you want to tell, there's tools like Legend that turn static text into stunning animations. And even though they came out a few years ago, brands like Taco Bell and Purina are still experimenting with Instagram's Hyperlapse and Boomerang. And if you're looking to add movement to an image, programs like Plotagraph, Flixel and Cinemagraph make it easy to bring photos to life.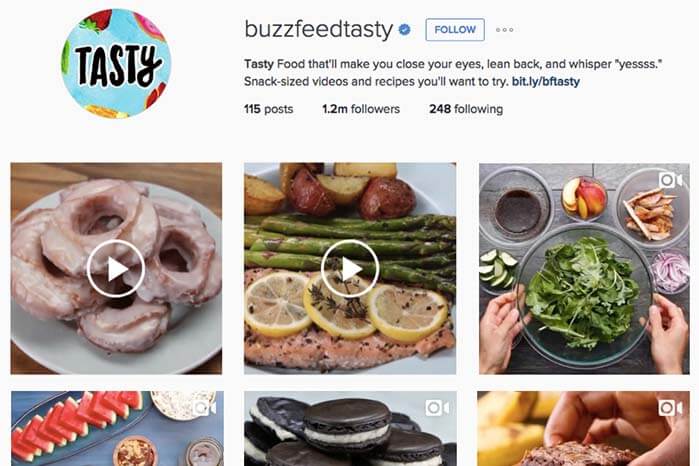 Use the correct format for different platforms
3. Smartphones Require Smarter Videos
According to Cisco, by 2021, 82% of Internet traffic will be video, and earlier this year Similar Web revealed that mobile and desktop internet usage are almost split right down the middle. This means your social videos should be accessible from all devices and built for specific mobile channels. Look at Instagram for example. When it comes to in-feed video ads, square format videos where the subject is framed tight tend to grab a viewer's attention. A couple good examples of brands who are using Instagram video ads the right way are Apple Watch and Buzzfeed Tasty.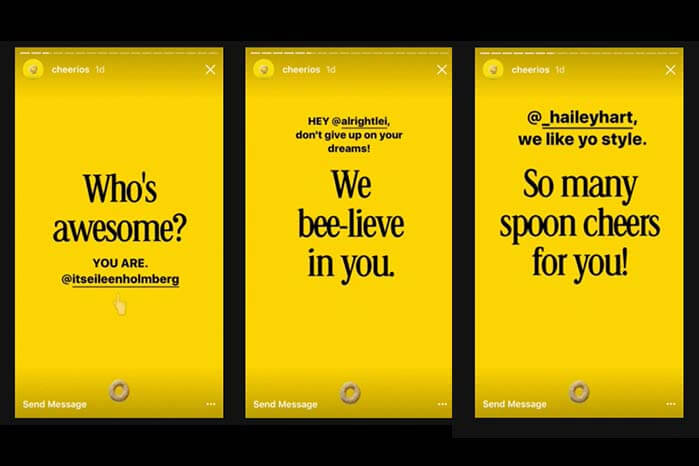 Interact with viewers through Instagram stories
4. Master Stories
Earlier this year Instagram Stories was the hottest, newest way to get your brand in front of an engaged audience, and recently Facebook has expanded these stories to include Canvas-style ads. Canvas ads are full screen interactive ad units that can help tell longer, more involved narratives. But even with all these additions, the key to creating great Story content remains. Keep your branding clear, keep your concept simple, take advantage of the space, and don't forget to hashtag and ask for viewers to respond with comments. One brand that stands above is Cheerios. The cereal brand uses Instagram Stories to give regular shout-outs to their fans. Another example of a brand using Instagram Stories well is Apple. It took them a little while to jump on this train, but since coming aboard, their content has been engaging and fun. If you're looking to up your stories game, here's a few hacks assembled by Later.com.
5. Take It Live
The boundaries between broadcast television and digital media are blurred even more with technologies like Facebook Live, Periscope and Instagram Live, and brands need to embrace these if they haven't already. Some great examples of successful brands who are using live content include Kohls (who teamed with fitness brand Tone It Up) and Martha Stewart who's regularly dropping recipes and AMA-style content. The key here is fan and viewer interaction. If someone wanted to simply watch a live broadcast, they can turn on the TV, but with live digital broadcasts, viewers can post responses in real time, show reactions, and interact with what they are seeing. So, if you're thinking of pitching some live content, pitch ideas where audience interaction is encouraged.
With technology evolving right before our eyes, creating entertaining and interactive branded content for social channels is like the Wild West – there aren't any written rules. But when it comes to short form, interactive storytelling, what we do have are best practices. So, give the list above a shot. Happy content creation, everyone. Go forth and make beautiful things.