Do you remember that story about the 3-year old boy who fell into the gorilla habitat at the Brookfield zoo? After being knocked unconscious by the fall, he was picked up by Binti Jua, one of the habitats female gorillas, who took care of him and carried him to safety when paramedics arrived.
The rest of what you're about to read has little to do with that incident directly and more to do with the lesson that can be learned from the situation – Things may not always play out exactly how you expect them to. Sometimes crazy scenarios work out for the best and leave you with a great experience and an unexpected story.
When the mid-week hump hits Pound & Grain and everyone's up to their elbows in their latest projects, we don't just keep rolling for rolling's sake. Instead, we choose to stop what we're doing and hit the couches to hangout. Sounds crazy, right? It's our Wednesday ritual between 12 and 1pm that we call The Distillery.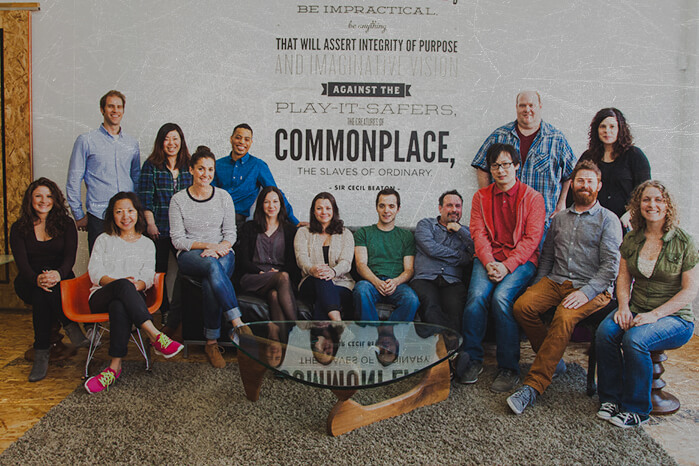 The mission of our weekly Distillery is to ensure that we step out of our regular expectations and thinking to gain a different perspective, get inspired, communicate and collaborate with the people around us. Our work and thinking in The Distillery follows a few uncomplicated guidelines – be simple, beautiful, entertaining, useful. This has steered us through some super fun projects from websites and campaigns to landing pages and products.
We turned April Fools Day into a sneaky affair with the launch of Brassica & Co. A store that specialized in the creation of 100% Kale products and catered to the calling of hipster trends in our hood. It also happened to coincide with the launch of our new P&G website, which drove people to visit after news broke that Brassica didn't actually exist. Recently we created Film Hearts, our webApp that focused on the world's second largest film festival – TIFF. Our App made the festival experience easier by helping people find films and friends to watch any of the scheduled listings. Film fans and the media in Toronto embraced the idea. Especially when our Bill Murray Day celebration campaign was launched. We've now unveiled Film Hearts for VIFF.
The Distillery is an inspiring place to learn and create. From our individual team member talks, which we call 'Insights', to presentations from invited guests, our sessions have certainly delivered the unexpected and left us with great experiences. We've heard team member Insights such as 'Personalities behind blood types' and 'The history of Maple syrup' to 'Hotels' and 'The lessons of failure'. Our guest presentations have delivered a treat of entertainment and thought provoking experience.
"The Distillery is an inspiring place to learn and create. From our individual team member talks, which we call 'Insights', to presentations from invited guests, our sessions have certainly delivered the unexpected and left us with great experiences. "
THE BUSINESS OF ART
We've had the pleasure of chatting to contemporary artist Zoe Pawlak, about the balance between creativity and business. She shared how she keeps the creative fire burning while dedicating her time to a strict working schedule. We also got a chance to see some of her latest works including the rug collection project that saw her partnering with the Burritt Bros. We loved our time with Zoe and her energy left us all feeling like we could take on the world.
VISUAL STORIES
Photographer Philip Jarmain recently stopped by and inspired us with his passion for story through photographs. The deep sense of narrative to his work is captured incredibly well with his project 'American Beauty', which showcases the opulent beauty of Detroit's pre-depression architecture. He's currently exhibiting at the Jennifer Kostuik Gallery and has published a book, which features historical and architectural information on each photograph of his 'American Beauty' project. We enjoyed having Philip over for a visit and his story about the two Orcas had us hooked from the beginning.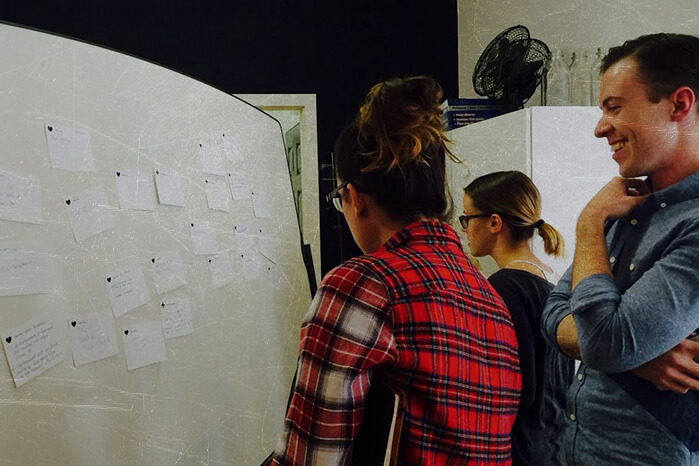 Getting the chance to explore Why I Love My Hood with Matt Hanns Schroeter
CREATIVITY FOR GOOD
Matt Hanns Schroeter is a designer who joined us for a Distillery presentation and really got us thinking about our place in the community. Matt chatted to us about how creatives can use their skills to make a positive social impact through pro-active projects. And feel really good about doing it. A moment into Matt's presentation and it was evident that he's a busy man. He showcased a number of the projects he's involved in such as 'Project Thankful', 'The Brainly', his work with Gordon Neighbourhood House, and his latest project 'Why I love my hood'. Matt's enthusiasm for making a difference is infectious and we enjoyed having him round to spark some interesting discussions.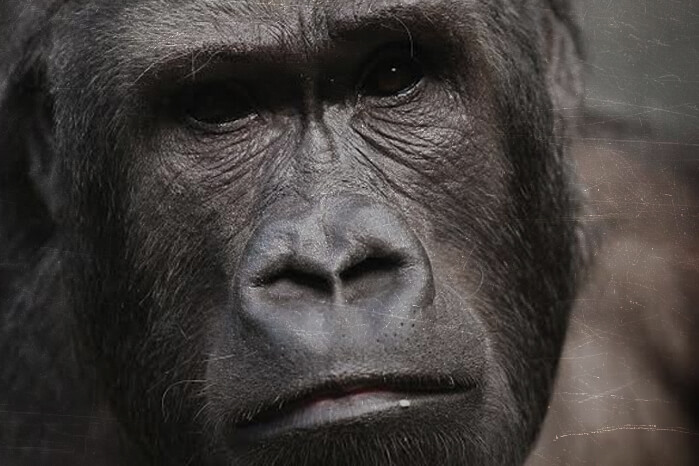 Does anyone speak gorilla? We want to hear good stories.
So, as you can see, putting everything on hold for an our in the middle of the week may seem like a crazy scenario at first, but what we've learned is that changing perspective on things leaves us with an unexpected amount of inspiration that has motivated a number of other experiences and stories. And those, you can read about in the next post about The Distillery. We might even try and get Binti Jua in to tell her side of the story. Anyone speak gorilla?
If you or someone you know would like to join The Distillery by sharing your interesting and inspiring stories, hit this word to drop us a line.