The first edition of The SoDA Report 2014, SoDA's biannual trends publication, has been released!
If you skip ahead to the 97th page, our own Sandy Fleischer digs into his second passion, Minecraft. His article, Watch Out for That Creeper: What Minecraft Teaches us About Marketing is now live. 
In this volume, SoDA explores the concept of value. The human is placed at the heart of this issue and is used to explore themes around value systems, value creation and value delivery from a wide variety of perspectives. How are agencies, production companies, brands and technologies creating and delivering value, or even giving rise to entirely new value systems?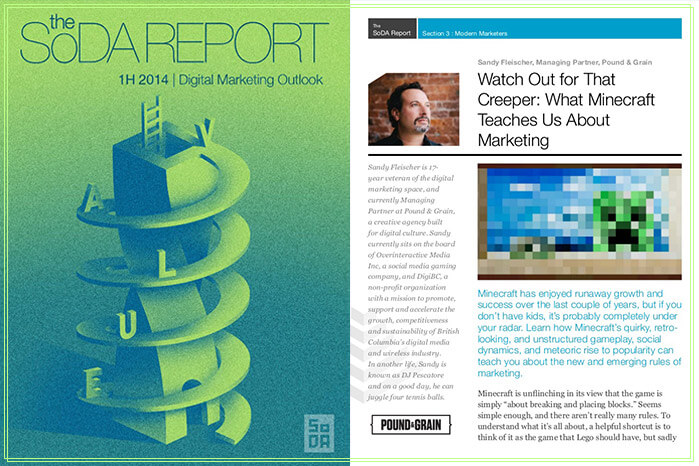 While Grand Theft Auto spent $120 million on marketing its latest release, Minecraft fans are being taught how to create and market themselves.
SoDA dives into all of these questions throughout each expertly-curated editorial section within the report. The sections include Industry Insider, Modern Marketer, Tech Talk, People Power and Advocacy. You'll also find an exemplary collection of projects from SoDA members that features work with world-renowned brands such as American Express, Adobe, EA Sports, Walmart, Nike, Google, IBM, Samsung, BMW, MINI, and on page 182 our own work for BC Dairy Association and the British Columbia Agriculture, Buy Local. Eat Natural gets the SoDA Report treatment.
They also use the concept of value as a lens when analyzing the data for this year's Digital Marketing Outlook (DMO) research study which had a tremendous response this year. The share of client-side survey respondents grew considerably this past year and now – for the first time – is essentially on par with the percentage of agency / production company respondents.