The #ChickenSandwichWar
A buttermilk-battered chicken filet, pickles, and mayonnaise inside a brioche bun. Well, not only does this make up a delicious chicken sandwich, it's created a modern cultural moment nearly impossible to avoid. Oh, you think this is hyperbole? Peep this for a second before you jump to such a conclusion. The #ChickenSandwichWar isn't just an "Internet thing." Sure, the hashtag alone has been used over 10K times and engaged with almost 250K times, but the snowball effect of something that started as a menu item announcement at Popeyes has quickly manifested into a full blown phenomenon.
Maybe Not Free-Range But Definitely Organic
Seeing people driven into a frenzy over a product isn't new (Tickle Me Elmo anyone?), and we've even seen people go a little overboard with fast food items (Szechuan Sauce anyone?). But we've never experienced such a wave of controversy over a product when it was simply announced online with nothing more than an organic social post and a Youtube video. Think about that for a second, save for a few display ad banners after the sandwich became available, Popeyes has earned approximately $24 million in free advertising in the first 11 days of the war from digital, newsprint, radio, TV, and social. Popeyes has also gained 25K Twitter followers and Google searches for "popeyes chicken sandwich" has increased %1000. The #chickensandwichwar and all of the conversation around it is a perfect example of how powerful an online trend can become.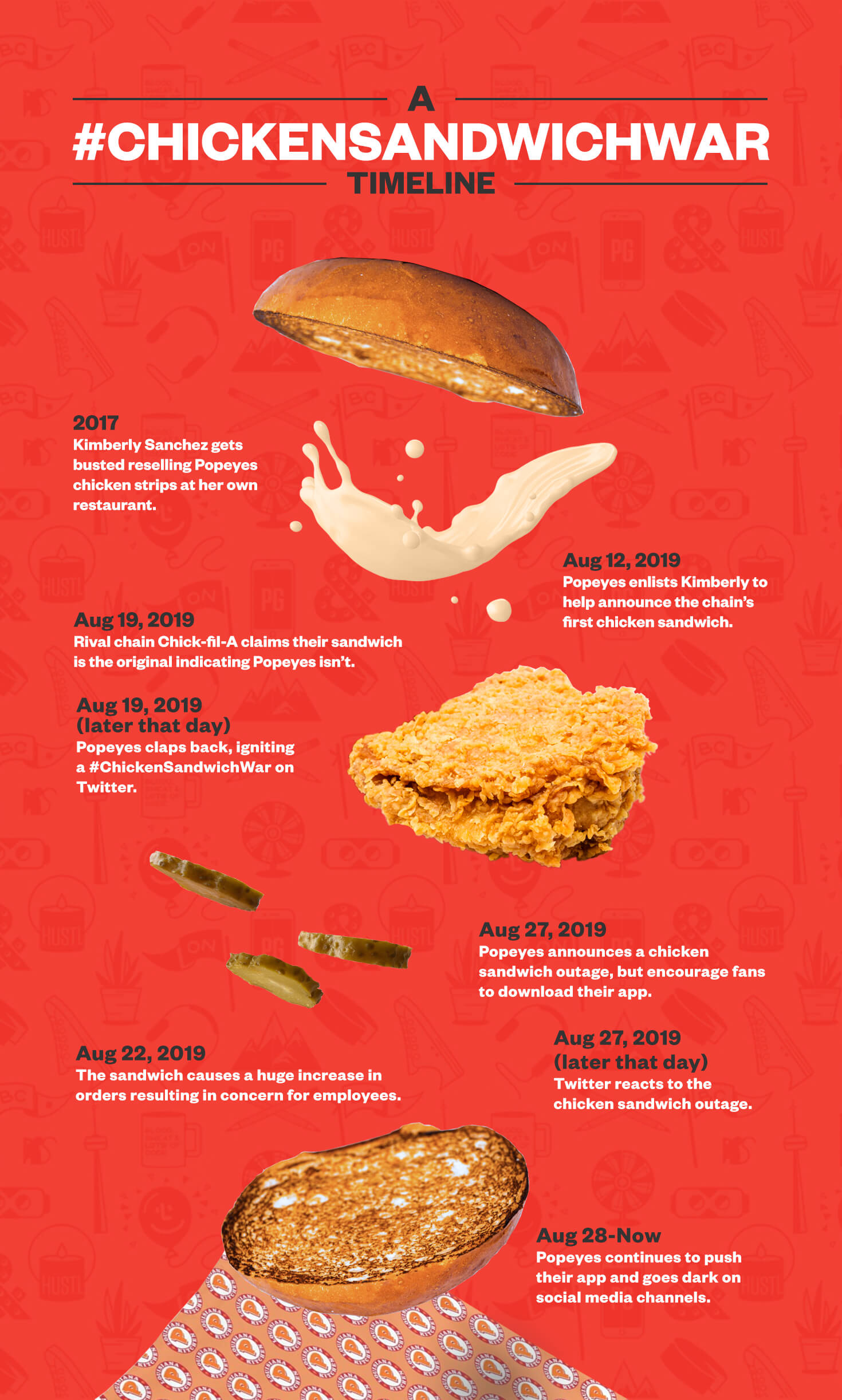 Visuals by Jane Lee
Why A 'War'?
Not sure if you've noticed, but the Internet has a tendency to hyperbolize opinions, facts, and trends, and calling this a 'war' might seem typically over-the-top. But with the added context of the Chick-fil-A debate, things have become heated to say the least on channels like Twitter and Reddit. Chick-fil-A has been at the centre of fast food debates since 2012. Up until last month, if you're a diehard chicken sandwich fan you always had to consider what Chick-fil-A stands for. But now, thanks to Popeyes, fans can make their decision not only based on taste and quality, but also beliefs. We realize that comparing religious ideals with chicken sandwich fandom is absolutely absurd, but it is an interesting look into the power of brand beliefs.  
It's Not All Love
But with great power comes great controversy, especially when social media is involved. No brand is ever truly safe, but when your brand generates a powerful cultural moment, the discussion around ethics comes front and centre. Take, for example, this deep dive into how Popeyes is co-opting Black Twitter. Or this image of an exhausted Popeyes employee that's generated over 3.7K Likes on Twitter. Even a celebrity like Janelle Monae has gotten herself in hot water over the topic. All we're saying is, positive online conversation can be great when it comes to strengthening a brand's voice and beliefs, but we really need to take all of this with a huge grain of salt. For every Like, Heart, ReTweet, and Share, there's an equally powerful conversation generating from the other side that shouldn't be ignored.
Why We Give A Cluck
If anyone ever questions the true power of digital media, we really only need to refer to the #chickensandwichwar. It's an incredible example of how a brand experience can begin on a social platform and manifest itself into the zeitgeist of pop culture. Historically we've seen online trends become huge, but eventually fizzle and die out once people have stopped paying attention. The difference between those trends and the #chickensandwichwar cultural movement is the snowball effect. Call it timing, call it luck, call it brilliant marketing – call it whatever you want, but what started as an online announcement has quickly become a perfect example of how a conversation can snowball. For better or worse.