Attending a marketing product demo meetup at Shopify's Toronto office with Marketers Unbound was a fantastic way to spend a Thursday evening.
We went in with few expectations, but what we were not expecting was to learn a few new tricks to put up our sleeves. This came in the form of two new digital marketing terms and a few new tools that we can't wait to try to put in to practice.
Batting lead off (it must be the Blue Jays exceptional June play that's inspiring this baseball lingo) was the Senior Marketing Manager of Influitive, Alex Shipillo. We love any talk that starts by boldly reinforcing how little today's consumers trust marketing and sales people. For Influitive, that insight has led them to go from 35 to over 100 employees and 6x revenue growth this year by playing in the new space called Advocate Marketing. It's a smart toolset that allows companies to mobilize an army of advocates from a B2B. Most importantly, for all the Parks and Rec fans out there, he also dropped some pretty sweet Leslie Knope references in his demo!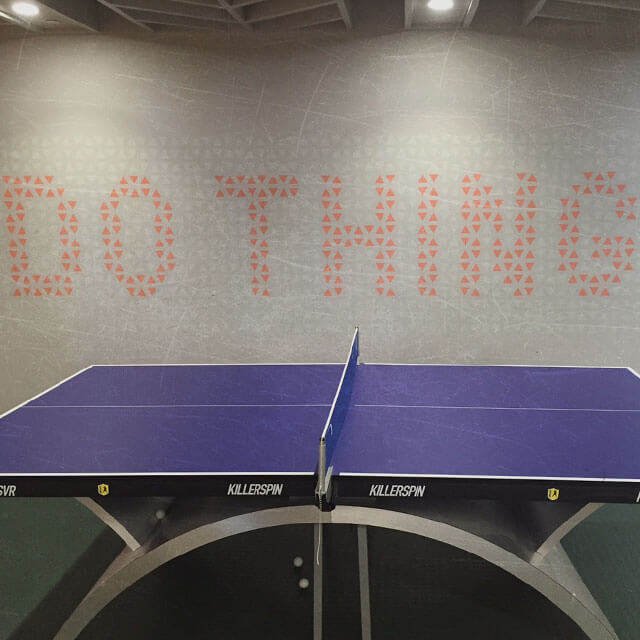 Shopify's Ping Pong Game was on point.
Turnstyle's marketing manager Bennett Fitzgibbon batted clean up this night and introduced us to the term WiFi Marketing. Basically, the service is designed to monetize the free WiFi we all demand at cafes, public spaces through branded experiences. They kick it up a level by offering up social check in to access the wifi, and connect the dots between faceless phones and actual guests. Amongst other great ways to leverage this technology, we can totally see some cool applications for augmenting experiences for organizations in travel and hospitality especially as they get clearer intel on who their guests really are.
Rounding out the night's demos was the content marketing and experience platform Uberflip, presented by marketing VP Hana Abaza and PheedLoop, an event and engagement application presented by co-founder Rahul Goel. Uberflip had some really interesting features on how to make branded content hubs as well as integrating demand generation right into your content – the idea that you don't need to go to a landing page to request that ebook that you've been yearning for is very smart stuff.
Just when you think that you know all of the digital marketing terms, you attend a great meetup and realize that you have to expand your old lexicon. Considering the evolution and productization of marketing when it comes to digital, this really shouldn't come as a surprise. And the coolest part is that all of this start up marketing tech is all happening right in our Toronto office's backyard.