Last month, I attended Design Thinkers 2018 right here in downtown Toronto. For two full, inspiring days, I listened to RGD leaders and incredibly talented designers speak the truth about the state of design and our industry.
Why was a writer sent to a design conference? For starters, I think it's important that everyone in a creative team has a finger on the pulse of what's going on within their industry. And secondly, just because I'm a writer, doesn't mean I don't love design. I personally believe that writers who appreciate, have an eye for, and stay up to date on the latest in design can offer more at work, especially when collaborating with designers (which is always).
It was a great experience full of inspiring speakers, engaging content, and tons of freebies (score!). Here's what I learned.
1. The Ebb and Flow of Brand Identities
When I found out one of my favourite profs from my old life (A.K.A. my student life, A.K.A. thank goodness that's over) would be speaking, I knew I had to attend. Branding expert and one of Sid Lee's CD's Laura Stein gave a talk called "Basslines & Riffs" where she used these musical terms to differentiate between logos and brand identities.
Everybody knows how important a logo is for the branding of a company, product, or organization. But the key to remember is that while branding identities should be flexible, the logo should remain a constant. Laura shared some examples of projects she's worked on where she brought this practice to life. Asics Tiger and Sonos are two of many brand identities she's helped refresh during her time at Bruce Mau. In both cases, the logo stayed the same, and the brand identity was given room to breathe, adapt, come to life, and be molded for different applications.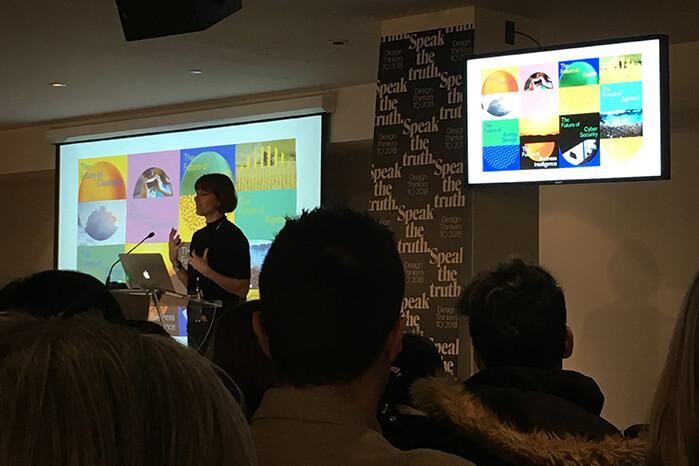 "A logo lives forever. The identity is where the riff happens."
Ideally, your brand's identity is timely, while your logo is timeless. Sure, sometimes a full rebrand is necessary, but what we have to remember is that, as Laura put it, "The more you rebrand, the more you rebrand." This is why it's so important to nail a logo the first time. You want a strong bassline (logo) that people can instantly recognize and bob their head to, with a riff (brand identity) that goes up and down, changes keys, and is full of surprises.
As someone who loves music and can play an instrument or two (#humblebrag), I really loved this metaphor. It's simple. It's beautiful. It allows you to not only visualize what the relationship between a brand's identity and their logo should look like, but also sound like.
Takeaway 1: Have fun riding the waves of a brand's identity, but remember that the logo is your anchor.
2. Hardcopy Design
Remember how I said that writers need to keep in touch with design? It goes both ways, because designers should also be able to express their thoughts and ideas through writing. In his presentation "Graphic Designer as Publisher," the multi-talented Adrian Shaughnessy shared, "To join a discourse on a design, we must write." I mean, how else can we keep a record of design?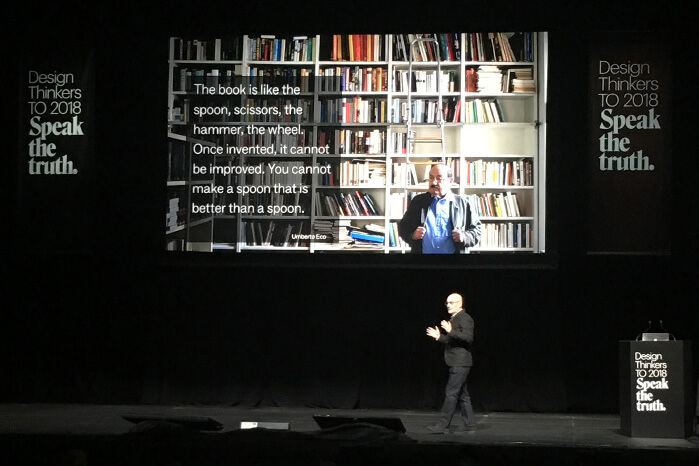 "The book is a really good piece of technology."
Adrian also discussed the importance of making time to design for yourself as an escape and break from service and client work. He personally found fulfilment in publishing design books. So, he began Unit Editions, an independent publishing company that creates beautiful, artful design books by designers, for designers. This venture has allowed Adrian to be his own client, design beautiful covers, and tell compelling stories by writing and giving context to the design he is showcasing.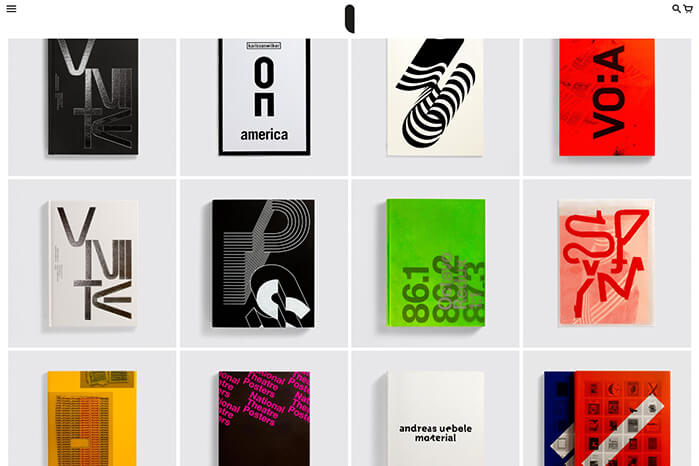 "I think we're capable of being more than just designers. Maybe there's an expanded role."
However, with Google Images at our disposal, people no longer buy as many design books. So why make physical copies in a digital age? Adrian believes that a double page spread is still the absolute best way for the dynamic between text and image to exist. And I agree! The world of digital is amazing and here to stay, but there will always be a place for physical books and printed design.
Takeaway 2: Bookmarking cool websites and saving beautiful images in a folder on your desktop is great, but surrounding yourself with physical, tactile, printed design inspiration is even better.
3. Looking Back to Look Forward
A recurring theme I noticed at this year's Design Thinkers was the idea that looking back on history is essential for understanding what is happening now, and for discovering how to design for the future.
In a talk called "Future Design," Forest Young of Wolff Olins explained how we must "see something special in something that doesn't exist for future design." We don't know what will come next, but we know what came before. So, by looking at the patterns -and the outliers – of the past, we can begin to guess just what might be next.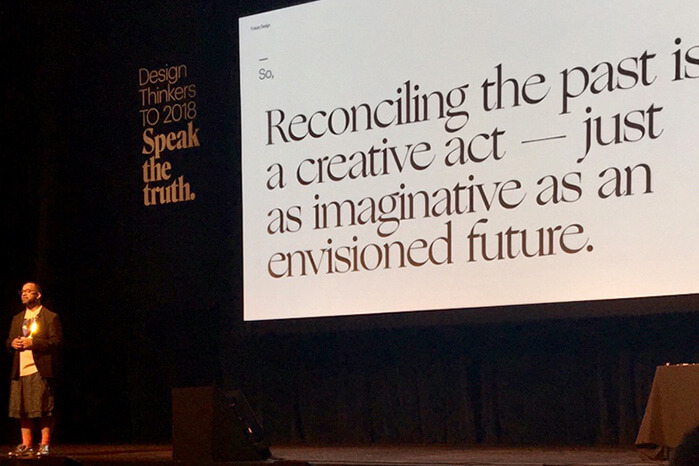 "It's more of a feeling of what comes next."
In her compelling "Signs of Resistance" talk, Bonnie Siegler took us through a timeline of American history through the lens of protest design. As an American citizen living in a politically dividing climate, Bonnie shared some of her efforts to initiate change and make progress. When she felt stuck, guess where she looked for inspiration? The past. From the women's suffrage and civil rights movements, to the women's march and Black Lives Matter, people have long been speaking out against the government with design as their weapon. Whether in the form of of protest signs, iconic imagery, wearable symbols of solidarity, or internet memes, words and image can be a powerful tool to unite and and make a difference.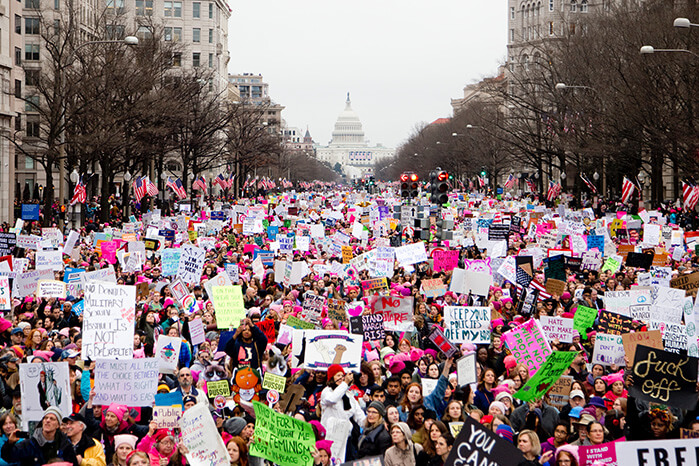 "In order to understand what's ahead, we must look at what came before."
Even design legend Michael Bierut touched on this when discussing the importance of designing content that people can identify with. He shared, "You want to do something that people can possess and find their own truth in" and this is especially true for protest design. History repeats itself, so what worked before, will work again. We just have to adapt the messaging, reframe the context, and put our own spin on it for today's audience and fellow resistors.
Takeaway 3: If you want to make an impact today and tomorrow, look at what worked yesterday.
Design Thinkers was the perfect opportunity to reconnect with what's going on in the world of design and in the creative industry. It was also a great reminder that, as creatives, we're never done learning. So, a sponge I shall be; ready to soak up all the knowledge being shared, stories being told, and creative lessons being taught.